ALL ABOUT BABIES
MIKE and PHYLLIS NESMITH named their baby son JONATHAN DARBY. He was born at 11:30 P.M. on February 4 and weighed seven and a half pounds . . . ELVIS and PRISCILLA named their six-and-a-half-pound daughter LISA MARIE . . . GARY and SUZUARA LEWIS named their daughter SARAH.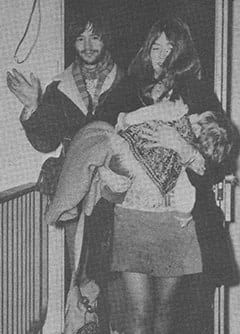 What cute super-star member of what famous group has a secret Polynesian-Hawaiian girl friend? Not serious, not steady—but she always seems to be around . . . Get a load of PATTIE BOYD's new look in make-up. She featured it when she turned up with the rest of the BEATLE gang at the opening of the London flick Here We Go 'Round the Mulberry Bush . . . All that hoopla about PETER TORK and the mystery lady and baby was just that—hoopla. The young lady, MARY HARVEY, and her husband and child are long-time friends of PETER's. Mr. Harvey went along with his wife and child and PETER on PETER's vacation trip to London. The persistent press asked so many silly questions about the HARVEYS that PETER ultimately couldn't resist a send-up. No, dearies, PETER isn't married . . . Not a shred of truth in the rumor that SAJID KHAN has been dating ANGELA CARTWRIGHT . . . England's famous NME polls announced ENGELBERT HUMPERDINK as the top personality of the year—knocking the BEATLES, the STONES and the MONKEES right out of the box . . . England's newest rave group is PETER FRAMPTON and the HERD. PETER, who is only 17, is the new top idol of merrie olde England . . . GORDON WALLER has released his first single Rosecrans Boulevard. PETER ASHER is A&R-ing PAUL JONES' newest single. However, PETER & GORDON have not broken up. They will continue to record together and hope to visit the States and work here as a duo again soon . . . Adorable DON GRADY of My Three Sons and Yellow Balloon fame is spending six months under the auspices of Uncle Sam at Fort Ord.
Face-fuzz is in forever, I guess. STONE BRIAN JONES turned up with a beard at the BEATLES GRAPEFRUIT party just in time to say hello to DONOVAN—with a mustache! . . . JOHN LENNON's dad got married to 19-year-old PAULINE JONES. Meanwhile, back in Surrey, JOHN received his dad and after years of estrangement—they made up and are close friends . . . HAYLEY MILLS and HYWEL BENNET are co-starring together again. They've just begun Twisted Nerve at the Boulting Studios at Twickenham . . . Take a listen to pretty PENNY NICHOLS' Buddah LP—and you'll discover that she's not just another pretty face. She is an extraordinarily gifted young singer, composer and guitarist.
A million thanks to groovy MERV GRIFFIN and CHRIS CROSBY for the fabulous tribute they gave 16 Magazine on the nation-wide Merv Griffin Show. Like WOW!!!