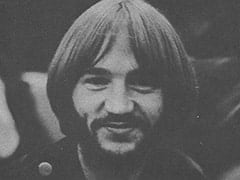 Lulu grew up fast from her "To Sir With Love" role to receive her first screen kiss from Dave Clark in one of his TV specials that will probably be seen on American TV next autumn.
You can wear shoes just like Sajid's soon. Thom McAn is producing a line of Indian walking boots and featuring Sajid in all the advertising!
Celebrities at the Bee Gees' concerts were many and mighty. Peter Tork, Tommy Smothers, John Phillips and Angela Cartwright were just a few.
A Bee Gee in jail? Not really. It's Barry Gibb trapped behind bars which separated him from the mobbing fans after their fantastic concert!