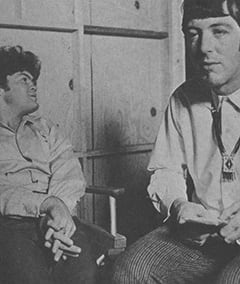 Not so very long ago 21-year-old Brendan Cahill was earning his living by driving all the touring music groups around London. To him, there couldn't be a groovier job than acting as personal chauffeur for the Artist's Car Service. Little did he dream that the day the Monkees arrived in London, his whole life would change and he would become the Monkees' road manager and Micky's close friend!
When the Monkees first came to England, I was the personal driver for Bob Rafelson, the producer. Then one day I got to chatting with Micky. He wanted a car and there wasn't one available so I took him. We got along so well that he said he wanted me to drive him all the time, so we arranged it with the others and I became Micky's driver.
I think the very first time Micky and I really talked was when we were in London and he asked where we could eat. I said "Do you like East Indian curry?" and he said he'd love to try it, so it was really over the dinner table that we got to talking.
Gets him the job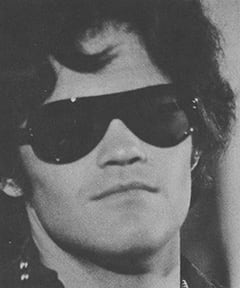 It didn't take any time at all for us to become very good friends, and for me to see what an unselfish person Micky is. In fact, he even brought me over to the States for a week just for a holiday. One day I mentioned to Micky that I wanted to stay in the U.S. because I was having so much fun. The next thing I knew, he had walked up to me with the unbelievable news that I had a job on the tour!
Although Micky still insists that the top brass came to him first, I know that it was Micky (with Davy's help) that sparked the whole idea. On the tour I took care of the transportation and this job eventually led to my becoming a road manager!
Same thought waves
I feel close to all four boys now, but Micky and I seemed to be on the same wave length right from the first. Like, I'll have an idea, maybe about the recording studio he's building in his house. So I'll tell Micky and he'll say "That's funny, because I had that same idea and I was going to suggest it!" We're both traveling at the same level but he's just one jump ahead of me all the time.
I've learned a lot from Micky. He's helped me find solutions to many problems and things that have bothered me. When I first came here, it was hard getting used to the different way of life. Everything was new and exciting and he really helped me adjust to it all.
Patience and perfection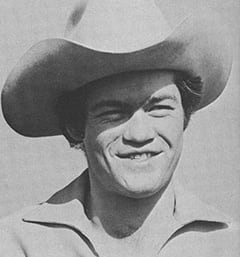 I think his best quality is patience. Sure, he's lively and he jumps around and uses up a lot of energy. But when he has to figure something out, his patience is fantastic. While many people just get hung-up and confused, he sits down and thinks it out carefully. I admire him for that.
Talent-wise, Micky's the sort of guy that does well on the things he knows best and what he doesn't know about he leaves alone. He's very musically-minded and mechanically-minded. Instead of doing fairly well on a lot of things, he does a practically-perfect job on these things at which he's talented.
And he feels that unless you really want to do something, don't do it, whether it's cutting the record or just sweeping the floor. If you do something without wanting to, then you'll only do half a job. When Micky performs, he wants to do his very best, so he succeeds. And when he's making jewelry or building onto his house, he throws all his energy into that project and it always turns out just right.
Micky's brainstorms
Also, when Micky is interested in something no one could be more enthusiastic. He can be sitting down with a bunch of people not saying a word. All of a sudden he'll get a bright idea and he'll go "Oh, Wow! Oh yeah!" He'll jump up and explain the whole thing to you, then sit down again before you know what hit!
We spend a lot of time together, but we don't like going out seven nights to this club and that club. When we do go out though, we go somewhere really good and have an outasite time. It makes up for all the other times we missed.
Hide 'n seek??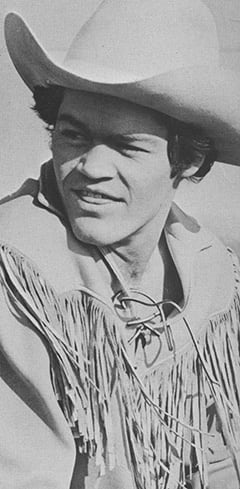 At his house, there are always people coming and going, always something happening. Some nights, he and his good friend Tad and I work on his recording studio or photography lab downstairs. Other nights we let go and it'll be like when we were kids, which is good for you once in awhile. We'll have a crowd or people over and really have a wild time playing crazy games like (would you believe?) Hide-and-Seek! It's really groovy because his house has a lot of hiding-places, in corners, in the eaves of the roof and all.
But there's a peaceful, quiet side to him, too. When he gets the chance, he likes to just get on his motorbike and go for a drive down to the beach by himself for an afternoon.
And the times I like best are the times when we all sit down at the dinner table because that's when we can really talk. During the day, we're working and talking business, like "This has to be done for the show" and "Let's do this to the house." But at night, we get together and just talk about ourselves while we're eating.
A friend is someone you know you can talk to as if he were you. If you can imagine talking to yourself, then that's the way you should be able to talk to a friend and that's the way I talk to Micky.
Micky means friendship
Micky's goal is to give the world something and he gets such a great feeling knowing that he's doing just that by being a Monkee. This goal shows in little ways, too. Like one day the dustmen, or trashmen as you say, were coming down the road and it was a really hot afternoon. Micky didn't hesitate; he just ran out the door and gave them something cool to drink. Then they sat down and had a talk with him.
To me, friendship in a word is "Micky" and Micky in a word is "happy". He wants to see everyone else happy too, so—he does something about it! I know, because he's given me help, advice, a holiday to America and the job on the tour. Maybe someday I can come up with a way to pay him back for giving me everything I have now!