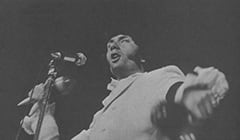 What do you think of clothes?
"They are very necessary. I take great pride in designing some of Phyliss' wardrobe, and even greater pride in the fact that she makes anything I do design look great."
What do you think of The Monkees' humor?
"I'm very proud of the fact that The Monkees have evolved a special humor of their own for the show. I sat for an hour once trying to think of something funny to do with a telephone! Some of Micky's spontaneous actions on the set are in the Marx Brothers class."
How do you feel about The Rolling Stones?
"What they did to Jagger and Richard over that drug charge in England did almost as much for the cause of reforming out-moded law as Joan of Arc did for Christianity."
How did you become a Monkee?
"I got my job in The Monkees because I'm a con man from way back. You've got to know how to 'shuck'—it's lesson number one. Presenting yourself in the most favorable light."
What do you think of Beatle John Lennon?
"People are frightened of his apparent scorn, but it's only a defense to hide his real compassion."
Why do you flip over gadgets?
"I'm push-button-made. Always in search of the perfect machine. I guess that's why I have seven cars and everything in my house is gadgets. I can open the doors to our house by pushing a button in the car miles away!"
What do you think of your fans?
"I like my one!"
MIKE WILL BE BACK NEXT MONTH WITH MORE EXCLUSIVE ACTION ANSWERS! RESERVE YOUR MAD MARCH FLIP NOW! ON SALE JANUARY 9TH!