With the answers to last month's questions about Davy, the first part of FLIP's Monkee Quiz ends. There were 100 questions in all, and if you answered more than 90 of them correctly, then you can consider yourself a genuinely groovy Monkeemaniac!
FLIP's spec new series starts right here, right now! It will be filled with brand-new questions about Davy, Mike, Peter and Micky! The first ten questions are all about The Monkees' Tour this summer. If you've been traveling with FLIP's Ric Klein on the tour, then you'll find the questions a super-snap! If you find the questions especially tough, promise yourself that you'll never miss another Monkee-filled issue of FLIP!
Next month: Get all the answers to this month's questions, and be prepared to flip out with another groovy quiz!
This month's tuffies: All about the tour!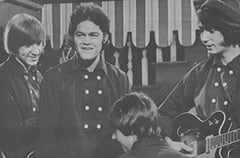 1. At what famous stadium did The Monkees appear in England?
2. On behalf of what famous singing group did The Monkees wear armbands while performing in London?
3. Who appeared with The Monkees on tour?
4. What group left The Monkees' tour in the middle?
5. The Monkees held two press conferences during the summer. Where were they held?
6. The Monkees recorded in four cities this summer. Which ones?
7. What famous singer, whose initials are D.D., did Davy spend some time with during their visits to New York?
8. Why was Micky surprised when he bought some Indian beads at Niagara Falls?
9. Who surprised Davy with a new guitar after Davy broke his?
10. Peter Tork's brother and sister-in-law joined the tour in Chicago. What are their names?
The answers to last month's questions about Davy!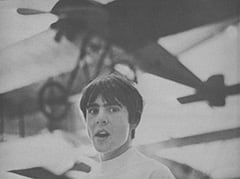 1. Davy's full name is DAVID THOMAS JONES.
2. He was born in MANCHESTER, ENGLAND.
3. He went to the VARNA STREET SCHOOL in Manchester.
4. Davy has THREE sisters.
5. Their names are LYNDA, HAZEL, and BERYL.
6. His father's name is HARRY. His late mother's name was DORIS.
7. His dad was a RAILWAY WORKER.
8. He trained to be a jockey at NEWMARKET.
9. Davy's boss' name was BASIL FORSTER [sic].
10. In "Oliver!" Davy played THE ARTFUL DODGER.
11. He joined the North American tour in TORONTO, Canada.
12. In "Pickwick," he played the part of SAM WELLER.
13. The star was HARRY SECOMBE.
14. Davy's stand-in is DAVID PRICE.
15. Davy's bed is CIRCULAR!
16. His pre-Monkee singles were: "The Girl From Chelsea, "What Are We Gonna Do" and "It Ain't Me, Babe."
17. He recorded for COLPIX.
18. Davy stands a very tall 5 FEET, 3 INCHES.
19. His birthday is DECEMBER 30th.
20. Davy's first performer on his label is VINNY BASILE.