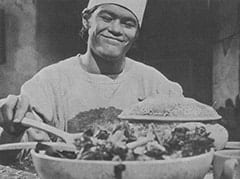 This was it! These were the slooper-super recipes of the year—of the century. I'd been stalking Davy, Mike, Peter and Micky for four days, and the last three they'd spent in one place… over a hot stove.
First I chased them around a supermarket… in fact I had to spend two hours in "Canned Foods" hiding from them; if they knew the Recipe Thief (that's me) was after them I'd be hung by my toes from "Frozen Foods" and never found again. Everytime they'd buy a new ingredient Micky would jump up and down screaming "that's it, that's it." He was really excited, and the more excited he got the more excited I got. What a scoop for Superboss!
But I had to be verrrry cool. Finally, after a sneak through Detergents and down Vegetables I was sure I had all the valuable info written down. And the boys were ready to check out. That is, they started to check out. Just as they were walking up to the counter, a bunch of fans walked into the store. Well they just couldn't believe their luck when they saw the idols of their dreams standing there, helpless.
They gave out a cry of attack and immediately smothered the fab four with attention. Which was perfect for me. Grabbing a bottle of ketchup off the shelf I sauntered up to the next check-out stand and waited patiently while the man ahead of me checked out his food. Of course this wily one was checking over the Monkees' basket to be sure I'd gotten everything just perfect… and I was quite pleased to see I had. The Monkees couldn't see me, what with their being covered by mini-skirts and all. All I could hear was Davy yelling, "help, I'm suffocating," but then he'd laugh. They really didn't seem to mind one bit.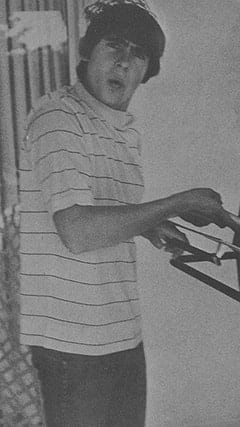 Next scene: I get to Micky's house before they do and stake it out. Up roars the Monkee-mobile with all four Monkees almost intact… Peter's shirt's a little torn and Mike's hat looked stretched out a few extra feet but all of them had a great big grin and suddenly, I almost had an attack of conscience. Here were their most important recipes… the ones they'd been planning for (if my inside contact was correct) YEARS, and I was about to expose them to the whole world. But of course the conscience attack lasted seconds and I was again gleefully watching them through the window, my nose stuck against the glass lest I miss a single movement.
Peter was in charge of mixing the ingredients of the main dish. There weren't many but it was such a delicate process that he had to do it again and again. Micky was overseeing this particular recipe and even after Peter was begging for mercy, Micky made him do it a few more hundred times… Wow! this really had to be something. After Peter finally got everything right Micky put on a giant white chef's hat marked "Micky the Chef" and took over the cooking.
While Micky was making the main course Davy and Mike were grooving with the fantastic side dishes. This was turning out to be the Perfect Meal… something even Washington would probably pay millions to get. And immediately thoughts of great wealth started going through my head. I got so carried away I almost missed the biggest event of the second day… it was Davy's "Great Secret Low-Calorie Soda." Now everybody knows how Davy is so health food conscious, and is so pure about everything he eats. Well he admits that every once in awhile he likes something sweet, but he has his own way of making it. It's as good as any Ice Cream Soda but it's low calorie and keeps Davy's lovely figure perfect—see, I'm getting carried away again. Anyway here's the first Super Perfect Recipe.
Davy's healthy black cherry soda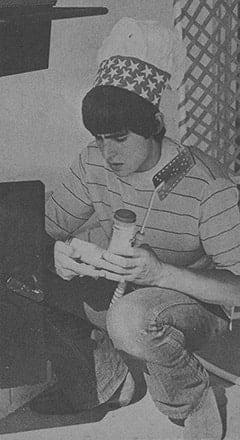 1 or 2 cans low-calorie Black Cherry Soda
1 envelope dry non-fat milk
5 cubes ice
1 tsp. Nutmeg
Put all ingredients in mixer. Blend everything together completely. Put some extra ice cubes into each glass and pour in the soda.
Micky's fiesta onionburgers
1 pound hamburger
½ envelope dried onion soup mix
Cheddar cheese
1 can chili con carne
Salt and pepper to taste
Mix together the hamburger, onion soup mix and salt and pepper. Make two large patties, then fry or broil until done. On top of stove heat the can of chili. When meat is done pour chili over meat, then cover with shredded or thinly sliced cheddar cheese. Put the casserole into an oven and heat for 10 more minutes.
Mike's Texas supersalad
1 large onion
2 large tomatoes
Vinegar
2 green peppers
1 cucumber
Slice onion, tomatoes, cucumber and peppers in rings. Alternate slices of each in a shallow bowl, then cover with vinegar. Place in refrigerator for one hour and then serve.
Peter's special bread
English muffins
Butter
Garlic Salt
Toast English muffin, then butter it and sprinkle garlic salt lightly on top. Place under broiler for a few seconds.