Party time around Monkee-ville never stops—but when the Holiday season swings into full gear, it's outasite Monkee mania!
Davy, Micky, Peter and Mike spend spare hours trying to make all the swinging parties they're invited to, and in between they play hosts at their own blasts. Invites from the fab four mean that your holiday's made. So when the Monkees took us aside and invited us to their own groovy parties we asked them to share their wild holiday recipes with YOU. Now you and all your friends can have your own Monkee party at home!
Micky's holiday bread cornucopias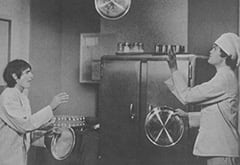 (Use for party appetizers… or?)
20 slices of regular sliced bread
¼ cup (½ cube) butter, melted
Deviled Ham Filling
1. Preheat oven to 350.
2. With a 3-inch round cookie cutter cut a bread circle from each slice of bread.
3. Flatten each circle with rolling pin.
4. Brush with melted butter on both sides, roll to form cornucopia, and fasten with toothpick.
5. Bake on ungreased cookie sheet for 12 minutes at 350 F.
6. At serving time fill with Deviled Ham Filling.
Davy's egg nog custard

2 cups egg nog
2 eggs
1. Preheat oven to 350.
2. Beat eggs and gradually add egg nog, beating.
3. Pour mixture into 4 to 6 buttered custard cups.
4. Place custard cups in a pan of hot water and bake 30 minutes or until a knife inserted in the custard comes out clean.
NOTE: If you want Lemon Custard add 2 tablespoons of sugar and the grated peel of ½ lemon to the egg nog mixture.
Peter's chocolate yule log
1 (6-oz.) package chocolate bits
1 (8-oz.) package cream cheese, at room temp.
1 tsp. vanilla
1 (1-lb.) box powdered sugar
2 cups minced pecans
1. Melt chocolate bits on very low heat or over boiling water. Remove from heat.
2. Blend in cream cheese and vanilla. The mixture becomes shiny and seems to separate.
3. Work powdered sugar into chocolate mixture until well blended. (Use electric mixer on low speed if desired).
4. Chill until firm (several hours or overnight).
5. Place half of candy in an 18 inch piece of waxed paper. Using hands, roll it into a log about 1 ½ inches in diameter. Unwrap and roll the log in pecans. Repeat for other half. Chill until firm.
6. Slice into ½-inch thick rounds for serving. Store in refrigerator. Makes 2 pounds of candy.
Mike's rainbow punch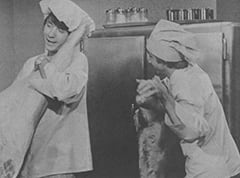 1 quart orange sherbet
2 quarts lemon soda
1 quart raspberry sherbet
Mint leaves
Pour soda in punch bowl, then put in scoops of sherbet. Sprinkle with mint leaves to give holiday look. (Other flavor sherbet may be substituted or added, according to taste).