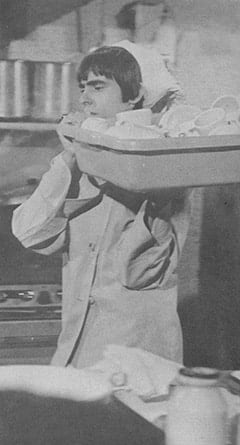 "Recipes are our business," thundered Superboss in his best pep yell manner, "and your sacred duty is to get those Tea Party recipes from Davy Jones come wind, rain, sleet and whatever."
Wind, rain, sleet and whatever came, and my sacred duty had frozen me to Mr. Jones' super groovy roof. Just as I was turning a brighter shade of neon purple, Peter slid through Davy's front door and promptly skidded out again.
"Hey, Davy, when did you get the purple neon sign on your roof?"
"Hey, Pete! That's no sign," yelled Micky screeching into sight, "That's the recipe thief!"
"What are you doing up there, you recipe thief?!" demanded Peter.
"She seems to be stuck up there," observed Davy coming out of the house.
"I AM stuck!" I sobbed.
"Why don't we get her unstuck before I turn blue from looking at her," commented Mike as he ambled up the walk.
"After we get her down, then what do we do. She'll steal all our recipes and I worked so hard on mine. It's just not fair!" complained Peter.
"Don't worry Peter, she'll never be able to find them this time, because I've hidden them in a really super place!" exclaimed Davy.
So with ice picks and whatnots in hand, they attacked the roof and I tumbled into Micky's arms… no escape… and rolled into the house. It's such a groovy outasite place and looks just like one of those English cottages in the country. The whole feeling about it is that it's warm and friendly like Davy.
All sorts of groovy outasite people were entering the house for Davy's tea and Davy surprized them by wearing a butler's outfit and bowing them all into the dining room where "Tea" is served.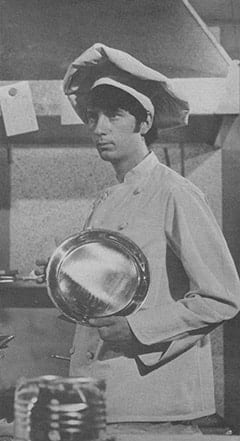 The food was totally totally fantabulous!!! Everyone loved it as evidenced by much gobbling of goodies. There were crumpets and cakes and all sorts of heavenly jams and tarts and cookies and for those who for some reason or another couldn't drink tea, Micky had made one of his super delish Mocha Frosts. It was served in a huge bowl and tasted scrumtious.
Davy added to the authenticity of a "Tea Party" by serving everyone tea from a huge silver service. Fantastic!! Everyone was totally stuffed to the gills with everything and there wasn't even a crumb left. Not one single crumb!
Davy had been wonderful and had ceremoniously poured me a super cup of tea. I started to drink it and noticed something floating in the cup. It was a piece of paper, a very small piece of paper with some writing on it. I stared very hardest and saw the word recipe! Wow!!! I wouldn't have to search for those recipes this time. I knew just where they were… oh, joyful triumph!!!
The last of the guests had departed and I with recipes in hand dripping wet was about to make a very hasty exit.
"Where do you think you're going?" Mike's voice stopped me cold for all of about one third of a second.
"Out fastest!" I replied and proceeded to finish my eighty yard dash.
"I'm sorry you couldn't find the recipes this time," Davy called out to me.
"Thanks, but I have them with me, bye!" I panted while dashing through the front hall.
Davy yelped, "THE TEAPOT!" I flew out the front door leaving chaos behind me as all of them tore for said teapot.
"IT'S EMPTY!" wailed Peter, "All the recipes are gone." "Hey, here's a note," said Mike. "What does it say?" asked Davy.
"It says, 'Dear fellas and groovy hosts' now isn't that sweet, thank you multimillions of times for your flash recipes and all that delish food. Better hiding places to you all, sorry about the teapot not working. See you all next month and try again Davy. Actually teapot was a great idea. I'd never have found the recipes if the paper hadn't settled in my cup; love to you all… always your faithful tag along… recipe thief."
Micky's marvelous mocha frost
1 gallon mocha ice cream
1 gallon coffee ice cream
2 gallons whole milk
4 tablespoons coffee mix
2 eggs
Combine eggs and coffee mix together and whip until foamy. Combine the rest of the ingredients and mix everything together until thick. Pour into big glasses and sprinkle with nutmeg. Serves 10.
Davy's heavenly Devonshire tartletts
½ pound cream cheese
½ cup sugar
¼ cup butter
2 egg yolks
2 cups thick cream, sweet
½ teaspoon salt
¼ teaspoon nutmeg
1 tablespoon orange juice
1 box of pastry mix
Mix up the pastry and line muffin or tart pans with it. Mix the cheese with the sugar, butter, yolks, salt, nutmeg, and orange juice. Prick the pastry and fill it with the cheese mixture. Bake in a hot oven (450 degrees) for ten minutes and then reduce the heat to 325° F. and bake 15 minutes longer or until brown and firm. When done, turn upside down on a sheet of paper to cool. Spread each tartlett with your favorite jelly or jam and top with the heavy, thick cream. Serves 12.
Mike's tea cakes
1 ⅔ cups cups sifted cake flour
½ teaspoons baking powder
¼ teaspoon salt
⅓ cup shortening
1 can of fudge frosting
1 cup sugar
2 eggs, well beaten
⅔ cups milk
1 teaspoon vanilla
Mix flour, baking powder and salt together. Combine shortening with sugar until fluffy and add eggs. Add flour mixture alternately with milk in small amounts to shortening and sugar. Add flavoring. Fill greased cup cake pan ⅔ full. Bake in a hot oven (350° F.) 15 to 18 minutes. Makes two dozen. When cooled spread frosting on top and decorate.
Peter's perfect watercress toasties
2 loaves of bread
1 cup milk
2 packages of cream cheese
3 bunches of watercress
Combine the milk and the cheese and blend until smooth and creamy. Cut the bread into slices and spread with cream cheese mix. Top each slice of bread with watercress and roll the bread from the top right corner to the bottom left and hold it together with a toothpick. Put in the oven and heat at 350° F. for five minutes.