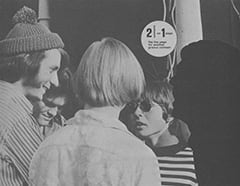 Who's the star in the shadows who's even got (would you believe?) Mike laughing?
He's a very important part of every Monkees' album, and he uses two names! He used to be a member of a singing group himself, but now he's scrunchily happy contributing to the groovy Monkees sound!
If you know who he is, you'll be eligible for the ten outasite prizes: Davy, Micky, Mike and Peter's newest album!
SEND TO: JANUARY STAR SHADOW CONTEST, FLIP MAGAZINE, 1010 THIRD AVENUE, NEW YORK, N.Y. 10021