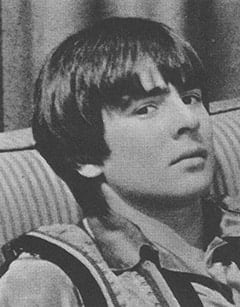 What long-time American pop group is on the verge of breaking up? In fact, two of its members have already cut a duo single record. All of the guys in this group are so gifted that each could be a solo performer—so they're super-safe . . . MAMA MICHELLE, and PAPA JOHN expecting a brand-new baby? If so, coupled with CASS' lovable little OWEN, we have the beginning of a great new group . . . Why was MARK LINDSAY's billing with the RAIDERS changed from PAUL REVERE AND THE RAIDERS STARRING MARK LINDSAY? Gee, anybody knows that a "feature" performer just does bit parts or "cameo" performances—whereas a star is a STAR! Oh, well . . . PETER ASHER reports that the latest rage in England is The Crazy World Of ARTHUR BROWN. He is a singer who paints his face different colors, and for a grand finale at each of his performances he goes up in flames! Honest—just before he has finished his last number, he strikes a match, ignites himself and walks off the stage ablaze. He isn't hurt, of course, but the effect is quite—shall we say?—striking . . . PETER also reports that the PINK FLOYD are very big in London. Their singing sound comes out like a combination of ORNETTE COLEMAN and the ROLLING STONES. And let me tell you, baby, that is some combination!
One of the most beautiful things to happen in America is a young man named TIM BUCKLEY. His single is Morning Glory and I recommend that you buy his brand-new Electra LP Goodbye And Hello. It's a full-range experience and none of you should miss it . . . DAVY JONES has opened a fantastic boutique in New York City's Greenwich Village. It's called Zilch 1. It is at 217 Thompson Street and not only can you buy the grooviest boots, slacks, belts, shirts and bangles in town there—if you are super-lucky, you might even get waited on by the one and only DAVY JONES himself! Meanwhile, if you would like to see what Zilch I has to offer, send 25¢ (in coins—not stamps) to Zilch 1, 217 Thompson Street, New York City. Be sure to print your name clearly on both your letter and your envelope, and a full description of the goodies available will be mailed to you pronto! . . . If you dig TWIGGY, did you know that you can get a life-size, full-length poster of her for only $2—and if you dig her lovely head, you can get a giant poster of that for only $1.50? Send cash, check or money order for Twiggy Poster Small or Twiggy Poster Large to Super Posters Ltd., 100 West 42nd Street, New York, N.Y. By the way, TWIGALA has fallen in luv with 16 Magazine and is writing a beauty column for us next month. Itza don't miss . . . PAUL PETTERSEN is marrying lovely actress BRENDA BENET. We wish you both all happiness.
Very strange—listen to the first verse of A Day In The Life and think about some of the terrible recent events to come the BEATLES' way . . . If JOHN, PAUL, GEORGE and RINGO start to spread the peaceful power of Eastern meditation and philosophy, it will probably be the greatest of a series of great gifts, which they have given us over the past several years. The word is really OM—and if you want to learn about it, read Herman Hesse's Siddartha.
The Beginning is the end.