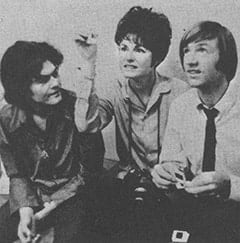 Predictions—where they'll be ten years from now: DAVY JONES—international star of nightclubs, cabarets and musicals; MICKY DOLENZ—famous comedian in the tradition of Charlie Chaplin; PETER TORK—leader of world peace movement; MIKE NESMITH—millionaire recluse similar to Howard Hughes. PAUL REVERE, MARK LINDSAY and CHARLIE COE will all be married and comfortably settled on top of their respective private mountains overlooking Boise, Idaho; FREDDY WELLER will be mayor of Atlanta, Ga.; JOE JR. will be the world's greatest jazz drummer. DINO MARTIN, JR. will be an all-time great movie idol; DESI will be the star of his own smash-hit TV comedy series; and BILLY will be A&R-ing for the Beach Boys' label Brother Records. The BEATLES will have turned the entire universe on with their mind-expanding musical sounds—and sights!
An ex-member of an ever-popular group should stop trying to spready silly and untrue rumors about the super-star lead singer of that group and get busy promoting his own future. Doesn't he realize that all that "bad mouthing" only reflects on him and comes out like a lot of "s"—as in sour grapes? (Besides, I thought L.A. was the land of love-ins, not hate-ins!) . . . Newest in disco in New York is swingin' JERRY SCHATZBERG'S Salvation . . . MR. & MRS. ELVIS PRESLEY and MICH & JOHN PHILLIPS expecting family additions . . . Latest English rage is guys wearing wigs. It started with the teen idols as a disguise and now has become a hip fad. Available for purchase: "the MICK JAGGER look," "the STEVE MARRIOTT look" and "the JIMI HENRIX look"—(like wild!) . . . The rage in Germany is skirts on fellas (don't knock it, girls, the Romans wore 'em and looked quite groovy) . . . BYRD DAVE CROSBY is setting a trend with the "Genghis Khan" look—long sidies, drooping moustache, and endless hair. He swears he ain't never gonna cut it again (guess that means MARK's ponytail will be in second place!) . . . Speaking of magnificent MARK, don't believe the stupido rag-mag that said he is steady-dating a "so pretty" Hollywood girl. Though MARK dates many girls and dates often, he never dates the same girl more than twice. Why? He's quite honest about it. Quoth he, "I don't wanta get hung up—yet." (You mean there's hope for all us Lindsay-luvvers?)
The original version of the Salesman band on the MONKEES new LP could've psyched out quite a few citizens . . . The Avengers will not rerun on ABC-TV in the fall, but will be a standby replacement if any of their new shows bomb . . . NOEL HARRISON is now on Warner Brothers Records and you can still write to him at 10202 Washington Blvd., Culver City, Calif. . . . Brand-new show-stopper—JEFF HOWARD. You saw him in Up The Down Staircase and you can write to him in care of William Morris at 1350 Sixth Avenue, New York City . . . Not only has our ed GLORIA STAVERS appeared in super-chic Vogue, but she also got a two-pager in The Saturday Evening Post. What next—Mad Magazine maybe? . . . Free-fall Award of the century to TOM & DICK SMOTHERS for their super-hip Sunday night TV show. If the squares really knew what those two are layin' down, it would blow their tiny uptight minds. They're a flamin' groove and I bet they'll blast Bonanza right off the range this coming TV season . . . Comps to JEFFERSON AIRPLANE for their gold record.
Watch for the PINK FLOYD!!