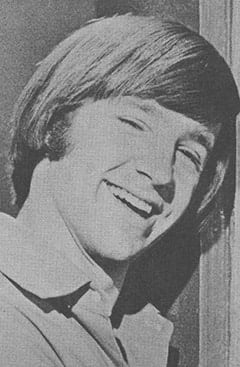 WHAT'S NEW WITH YOUR FAVORITES FROM COAST-TO-COAST!
JON PROVOST bought a Volkswagon bus on which he promptly painted colorful psychedelic designs something like those on JOHN LENNON's Rolls Royce. At the moment, JON is on a tour of the Orient and will be back in America on December 1 . . . The new SUPREME's name is CINDY BIRDSONG. She replaced FLORENCE and she used to be one of the BLUEBELLS . . . Beautiful BOB DYLAN has signed a long-term contract with Columbia Records and has started recording again in Nashville. Though I say for myself and for all 16-ers, "Welcome back, BOBBY"—in truth, you never left my heart . . . 16 Magazine is featured in His, Hers & Theirs, a United Artists' movie starring LUCILLE BALL and HENRY FONDA. It's about a couple who have 15 children and—oh, well, I guess you'll have to go see the movie to find out how 16 gets in there. (Thanks, MEL!) . . . Boo-hoo—my long-time secret crush on SPOONFUL JOE BUTLER just went ker-plow! He married his steady girl friend, adorable and talented actress LESLIE VEGA. Wish you all the best and much love! . . . After JAY NORTH taught his Maya buddy SAJID KHAN how to play football, he turned around and taught Maya the elephant same. Maya, who plays quarterback on the team JAY is forming, even knows how to place-kick a football—right over the goalpost! . . . BEACH BOYS taped a summer spectacular on themselves while they were in Hawaii recently doing a K-poi concert.
JIM MORRISON and the dynamic DOORS not only got a gold LP for their Elektra LP The Doors, but they also got a gold single for Light My Fire. Pretty good for the first time at the post! Hope they do it again for their single People Are Strange and their fantastic LP Strange Days. The DOORS are opening new and marvelous vistas to the eyes and ears of all teeners. Suddenly what most of the other groups are doing seems corny and old hat. I guess the best way to put it is the DOORS are real—and in the end, that's where it's really at . . . GeeGee recommended LPs this month include The Everly Brothers Sing on Warner Brothers Records; Ode To Bille Joe by Bobbie Gentry on Capitol; The First Procol Harum Album on Deram; Neil Diamond's Just For You on Bang; Are You Experienced? by Jimi Hendrix on Reprise; and the Paupers' Magic People on Verve Forecast.
FELIX CAVALIERE broke his engagement to his Pelham, N.Y., sweeaheart [sic]. They parted amicably and are the best of friends. The RASCALS, incidentally, are all buying land in Hawaii. Good grief, I hope they don't plan to go over there and permanently settle down! . . . Adorable RICCI MARTIN—DINO's baby brother—is leader of his own group, the SOUL SUPPORT. He just cut his first single and his big brother DINO produced the record for him . . . DD&B are thinking of starting their own record label. What will they name it? DD&B records, of course . . . It's a bouncing baby boy for LYNNE and GENE PITNEY. Congrats! . . . Atlantic Records' newest fave rave, CHRIS CROSBY, is absolutely knocked-out over the gangs of fabulous fan letters he got after his one single appearance on The Merv Griffin Show. The longer CHRIS' hair gets, the groovier he gets—and, baby, he's letting it grow, grow, grow! You can write to CHRIS in care of Atlantic Records, 1841 Broadway, New York City. Guaranteed he'll answer each and every letter that says "I Am A 16 Reader" on the outside of the envelope.
THE BEATLES are opening a disco in December in New York City which they will call Sgt. Pepper's Lonely Hearts Club Band Club . . . Whatdaya think of this self-portrait PAUL McCARTNEY did for an English trade paper called Beatwave?! . . . A British PETER TORK fan used a handwritten letter she had received from PETER'S "Grams", who lives in New York and writes for 16, to pave her way through ten MONKEES' security guards—and she actually got to meet her favorite MONKEE, PETER!! She showed PETER the letter; he read it smiled and said, "Gee, that's my "Grams," all right." . . . After conquering the beautiful Hawaiian Islands, the RASCALS up and flew off in the opposite direction and promptly conquered the groovy British Isles!
The End is really the beginning.