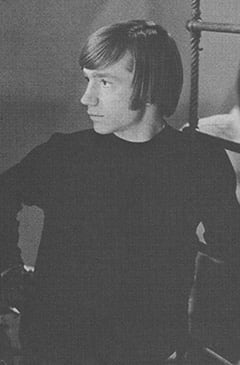 You will have to pardon the look of smugness on my (adorable) face, but this month, I (yea, verily) got to go to a little going-away get-together for Monkee Peter Tork, of whom you may have heard.
Well, actually, it's not like I was invited, but I went along with Genie the Tailor, who was delivering some of the grooviest clothes I've ever seen to Mr. T. I mean, I always knew Pete had nice legs, but it took Genie's pants (one pair orange and two whites) to show them to full (and tight) advantage. Plus two full-sleeved print shirts and an orange suede sleeveless jacket to go with everything (and that's exactly what Peter's wearing it with, if the pictures of the Monkee in England are anything to go by.)
While Peter is wearing out his first batch of Genie creations, she's back at home, glasses slipping down her nose, tape measure wrapped firmly around her neck, working on things for the Temptations, David Crosby, and Jorma of Jeff Air, among others (why should you be bothered wcth [sic] a long list of names like "Jones," "Harrison," etc.?)
Once again, the Whiskee has been swingin' and swayin' and swayin' with rock groups, mostly English with the Jimi Hendrix Experience doing a guestset one night and Eric Burdon and the Animals in for a weekend and promises of more to come (like the Youngbloods!!!) (and Byrds.) During the Animals' stay, we tagged along behind Moby Grape. Skip Spence (and if you ever need someone to tag along behind, Skip is on the T. Thomas recommended list) upstairs to the backstage area. There, I made several abortive attempts to secure Animal Vic's lovely orange Big Brother and the Holding Company tee-shirt for myself (I thought it would go nicely with the BBATC button which I light-fingered off the JH Experience's road manager). Well, to show you what kind of a night that was, they ended up turning out the lights, while Vic stood at the corner window, which overlooks Sunset Blvd., with a circling, flashing red light carefully balanced on his head!
I seemed to have reached the point where I usually say something about the (beloved) Buffalo Springfield. Well, I hope I'm not the one to break the news to you, but Neil Yound [sic], lead guitarist and writer of several of their grooviest songs, has decided to go to England with Jack Nitzsche to record on his own. (Moment of silence; gentlemen will kindly remove their hats.) Doug Hastings, who used to be with the Daily Flash and, what with a nice mustache and all, looks like Doctor Zhivago, now plays lead and the Byrds keep loaning out David Crosby to the group, so it looks like their [sic] are six Buffalo, once Richie returned from having his tonsils out and that's not counting road manager Dickie Davis and equipment boy, Miles. The entire entourage performed at a local club for two nights. The first night, Richie was sick, but later Neil, Stevie, Bruce and Dewey held a miniature jam session, a sorta farewell performance (and a tearful one for the hard-cores). The next night, there were eight Buffalo! They added Michael Clarke and the Electric Flag's drummer Buddy Miles to make the Electric Buffalo Byrd or the Springfield Byrd Flag, whichever you prefer.
I think I have mentioned previously the hazards of trying to type with a white kitten named Kanga on the typewriter keys. Now try to imagine the complications ween [sic] the number of kittens is multiplied by two. Clancy picked up a lovely little orange and white one, who was promptly named "Ellswit" because of a striking likeness to a certain local folk singer.
NOTE TO NEIL: Expecting to fly?
NOTE TO STEVIE: Baby, you're a rich man now!
Press parties in general have a bad reputation in our humble city. There are usually too many people you don't know, too many people you do know, and not enough food. The Bee Gees and Atco Records provided an exception to the rule. We drove out to the ultra-swank Beverly Hills Hotel (in our very best jeans) and feasted our eyes on the young and beautiful Australians of "New York Mining Disaster, 1941" fame and on some delicious food. Sonny and Cher, with Cher in a sparkly, light gree [sic] minidress and Sonny in a few less pounds, looked healthy, happy and wise and introduced the boys around.
We knew the Rascals would come back here someday and they did (now to get the Spoons!) to play at the Cheetah and, on their day off, did two TV shows (there's something wrong with that…). They stayed at the Century Plaza Hotel, which was unfortunately where President Johnson was visiting and peace people were demonstrating, so they nearly missed their show. Dino is about five-eleven, should anyone ask.
The other day, I was chatting with Albert Grossman, manager of PP&M, B. Dylan, Paul Butterfield, et al, ("Hey Al, say hi to Bobby for me!") and he mentioned that the Paupers are going to be playing at the Whiskee for several weeks. Now we first saw the P's (who are from Toronto, which must be a hotbed of talent about now) with the good old Grateful Dead in SF and then again at the P Festival. The lead singer is a REDHEAD with groovy sideburns and the lead guitarist is thin and dark, so they are already much loved in our house. The group, as a whole, is original, creative, exciting, inventive, accomplished, and groovy…
Until next month, this is your red-headed columnist…