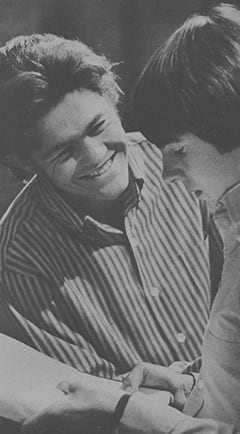 Well, FLIPers, summer's almost over and we've been looking back over the months we've spent with the Monkees and the groovy times we've had with Davy, Mike, Micky and Peter.
One of the things we remember most is how our first big Monkee hit, "Last Train To Clarksville," came about.
We started writing it at the beach, where we do a lot of our writing. (That's not all we do at the beach!)
It was supposed to be just an album filler. "The Monkee Theme" was set for the first single. We figured "Clarksville" might be a "B" side, but we never expected it to be the first single.
Anyway, Bobby got the title from Clarksville, Alabama, and we began it at the beach.
We finished it at a recording session—it was still just an album filler, and "The Monkee Theme" was still the single. We re-wrote the words a little and then were told that they had decided to use it as the first single. Were we ever surprised!
We remember another thing about that song, too, that happened during a trip we took a few months ago.
We got three days off and decided to take a vacation so we headed for Mexico.
When we got into this Mexican town we had a cab driver take us to the local rock and roll club. I think we were the only English speaking people there.
Most of the songs they played were American rock and roll songs, done in Spanish. They had a really great version of "96 Tears," but best of all was a Spanish version of "Last Train To Clarksville!"
We couldn't make out exactly how they had translated it, but we recognized it because of the melody and the chorus.
As we said in the last FLIP, we leave for England this month and we're both really looking forward to our first trip there. Davy, Mike and Micky have told us great things about England and the people there.
We'll tell all you FLIPers about it as soon as we get back.