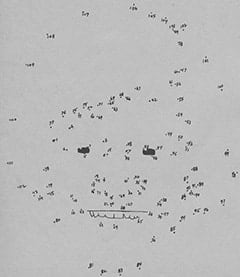 Our secret star is more fun than a circus!
Which may explain why he used to spend a lot of time around the big top. But, today, he's more fun than a barrel of ………!
Any more hints, and this wouldn't be a contest anymore!
If you know who he is, let us know… and we'll flip out if you're one of FLIP's ten outasite winners!
You asked for it… back-to-back contests… so that you can enter two contests at a time without interfering with anything else in each outasite issue of FLIP!
After you've worked out this contest, just flip the page for another contest!
And then send us both contest entries just as easily as if they were one! Most important of all, your copy of FLIP remains undamaged!