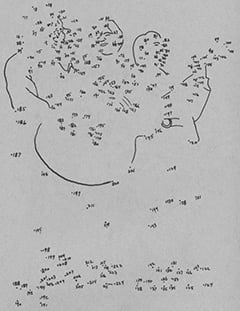 You asked us to try to put FLIP's exciting contests on pages designed so that you could enter them without having to cut up a story or picture you wanted to save.
And here's our answer!
Back-to-back contests… so that you can enter two contests at a time without interfering with anything else in each scoop-packed issue of FLIP!
After you've worked out this contest, just flip the page for another contest!
And then send us both contest entries just as easily as if they were one! And, most important of all, your copy of FLIP remains undamaged!
Our four fab friends between the dots were greeted with a huge and beautiful guitar bouquet made of Hawaiian flowers when they arrived in our newest state for one of their incredible appearances!
The wild arrival they were in the middle of will be repeated nearly fifty times this summer when they go on the most exciting and successful singing tour the U.S. has ever seen!
Know who they are?
Of course, you do!
So, decipher the dots, already, so that you can send us the coupon and be in the running for one of the ten groovy prizes!