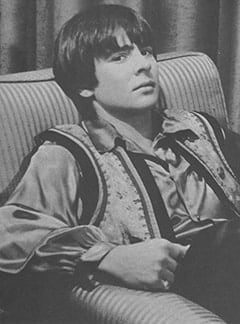 LONDON—TOM JONES on a diet of champagne, cigarettes and no potatoes . . . NOEL REDDING of the JIMI HENDRIX EXPERIENCE signs autographs on the back of English pound notes . . . LULU doing good unpaid publicity work for MONKEE DAVY JONES here . . . GORDON WALLER an exponent of knuckle fighting . . . PETER GOLDMANN, who shot that "Penny Lane" TV film, now much in demand by other groups like the HOLLIES, the TROGGS and MANFRED MANN . . . Top selling T-shirt with soppy slogan amongst pop people—'BATMAN LOVES ROBIN' which must go to prove something . . . MICK JAGGER the actor should be an eyeopener for everyone . . . HERMAN does an interesting line in "groovy" talk which has everyone fooled . . . SEEKER JUDITH DURHAM something of the odd girl out with the group . . . ENGELBERT HUMPERDINCK was threatened by thugs in Belgium when he pulled out of a concert . . . MICK JAGGER and MARIANNE FAITHFUL had new shoes made at a Chelsea cobblers.
STEVIE WINWOOD's new group—"Traffic"—is set to make sound waves around the World this year—it can only be said once: STEVIE WINWOOD IS THE BIGGEST MUSICAL TALENT TO HIT THE POP MUSIC SCENE SINCE JOHN L AND PAUL MC—watch out . . . Just a few people here thought PROCOL HARUM was an aspirin . . . BILLY FURY set to record a GORDON WALLER composition . . . Flat-mates in Richmond—GARY LEEDS, MITCH MITCHELL and GRAHAM NASH . . . DENNY LAINE the ex-Moody Blue, a name to watch out for as a solo artist . . . JONATHAN KING purports to be Britain's answer to Brigitte Bardot—pardon me if I prefer the original . . . Procol Harum's GARY BROOKER (He looks like Paul when he had the moustache) thinks RAY DAVIES sounds like an old man singing "Waterloo Sunset" . . . DUSTY SPRINGFIELD broke all records here when she appeared at London's 'Talk of the Town' nighterie . . . BRIAN JONES considering a mansion in his home county of Worcestershire . . . Coincidence: While I was on holiday in Ibizia, BEACH BOY BRUCE JOHNSTON also on the island . . . Welshman Gordon Mills who manages Engelbert Humperdinck considers a managers' job covers all areas. Says Gordon: "A manager must be a financial adviser, a musician, a tailor, travel guide and father confessor."
HERMAN spent a memorable few days yachting up the Thames with a few close mates recently—one particular Scotsman was inadvertently lost overboard but recovered minus shirt. His "trous" were then ceremoniously hoisted up the mast for drying while a few stirring choruses of 'Scotland the Brave' were sung by the assembled crew!
TREMELOE CHIP HAWKS reports that the fans are so enthusiastic for souvenirs of the group that every conceivable fixture has now gone from their van—Item Alan Blaikley is appealing for his seat to be returned . . . BEACH BOY BRUCE JOHNSTON bought his British press representative Roger Easterby with a pair of gold cufflinks inset with a watch before leaving Britain . . . ERIC BURDON now basing all his big promotion in the U.S. . . . ANDREW OLDHAM'S IMMEDIATE RECORDS have stamped on their sleeves—"Proud to be a part of the industry of human happiness" . . . GEORGIE FAME'S concert with Count Basie a dream come true for him . . . What would happen to dear old ELVIS if he decided to play a concert in Britain? He'd pack the place solid, that's what and sitting in the front row would be the BEATLES, STONES, HOLLIES, KINKS etc . . . HOLLIE TONY HICKS a fervent supporter of the BYRD'S style . . . TURTLES were driven mad here with their smallpox jabs which irritated like man—you could almost see them withdrawing into their shells.
GRAHAM NASH and I are unofficial presidents of the SIMON AND GARFUNKEL movement here—they deserve to be so much more widely recognized in Britain . . . Vaudeville band manager Peter Grant also represents EX-YARDBIRD JEFF BECK in Britain . . . RAY DAVIES, who wrote the KINKS' chart-busting single, "Waterloo Sunset" informed me that originally the number was to be called "Liverpool Sunset." Says Ray, "Unfortunately the Beatles came up with "Penny Lane" and that was the end of that idea. I think Waterloo stuck in my mind from old art student days when I used to walk over the bridge and see the sunset before going to college," . . . DJ Jimmy Savile (Savile was later revealed to be one of Britain's most prolific sex offenders) caused minor sensation on TV here when he turned up wearing a mini skirt . . . SAMMY JUSTE was not amused.