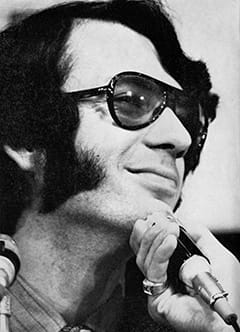 Daphne Terrell, who is in charge of the film library at the BBC, told us that she could not give us a definite starting date for the return of the Monkees' television series this Autumn.
The BBC, it appears, have three episodes which have not been shown in this country yet and if the start of the new series is delayed for several weeks the BBC may well show these in the three weeks preceding. One episode for the new series was filmed in Paris just before the boys flew into London on June 28.
The Monkee who plays anywhere

Permalink
Peter Tork is well known for his ability to play anywhere, any time.
He does not have to be on stage or even have a chair to sit on, as many people have found out at parties and clubs. If anyone hands him a Guitar or Banjo he just plonks himself right down, crossed-legged on the floor, and treats every one to a fantastic performance.
Ray Washbourne and Alf Weaver were two of the drivers who chauffeured the Monkees' limousine while the boys were here for their Wembley concerts in June and July.
They got very friendly with the Monkees and Mike Nesmith invited Ray to visit him in California. When Ray returned he rang us to say that he and Alf were going back to California to become drivers for Mike Nesmith and Micky Dolenz.
Davy Jones says that he is also going to get an English driver which will only leave Peter Tork without a Limey in the front seat of his car. What about it Peter, are you going to be the odd one out?
The Monkees' latest single release "Pleasant Valley Sunday" is ripping up the charts as "Alternate Title" is on the way down.
Sales of the new single passed the 150,000 mark well before the release date.
The writers of "Pleasant Valley Sunday" are Gerry Goffin and Carole King, who have been top American song writers for many years. Carole King put one of her own songs at the top of the hit parade a few years back, remember "It Might As Well Rain Until September".
Mickey [sic] leads

Permalink
This is the third single out of the last 4 releases on which Micky has sung the lead vocal. He is definitely the most versatile Monkee as he is not only their drummer and leading vocalist but he also plays the Guitar and as anyone who saw the Wembley concert will agree, is the craziest performer on stage.
Monkees play British

Permalink
Have you noticed that the drums Micky Dolenz plays are all made by Premier, who are a British firm with their main factory in Leicester. And all their amps are Vox. Looks like the Monkees are helping the British Export Trade in a big way.
[Scans by This Lovin' Time]