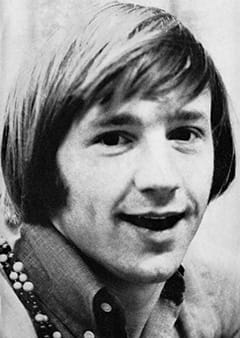 Hi!
Thank goodness it's September. Soon, very soon I hope, the BBC will be putting the Monkees back onto television every week. July and August definitely seemed to be empty without that weekly zany half hour with Davy, Micky, Mike and Peter, didn't they?
In the States the show is in colour but a special black and white film is made for us. Which raises a horrible thought. They wouldn't put the Monkees on BBC 2 in colour would they? They'd better not! Because only the few thousand people with colour sets would be able to see them. And I'm not one of them—are you?
Sad about Radio London and all the other pirates isn't it. Especially as we've got to thank Big L for helping to get 'Pleasant Valley Sunday' released so quickly. They started playing it in July and made it No. 1 in their charts the very first week. As a result RCA decided to rush release, the latest Monkee marvel on August 11th.
I spoke to Micky on the phone a few days ago and he told me that their American tour was very hectic and tiring. But they'd all enjoyed themselves. "Every audience is different," he said, "but they're full of the same kinda people—our people." He also said that he was sorry that Jimmy Hendrix didn't finish the tour because he thought he was a great artiste.
Most important, Micky confirmed what we all want to know. The Monkees have promised to come back for another visit as soon as it can be arranged,
See you next month.
JACKIE RICHMOND
[Scans by This Lovin' Time]