In a rare mood, the English Monkee reveals the things that cheer him up, some others that let him down.
Things that make Davy glad

Permalink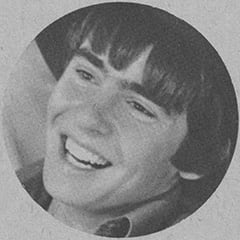 Sunbathing makes Davy glad. He digs the sun and the tan he gets so easily makes him the envy of the entire Monkee cast and crew.

Horses makes Davy glad. He loves riding them.

He's glad when he can eat steak and chips.

He's glad when he has a chance to play chef because he loves to cook.

Drinking real English tea makes him glad.

Wearing bell bottoms makes him glad.

Seeing a girl in a mini skirt or a pants suit makes him glad.

His new house in the Hollywood Hills makes him glad. It's just like a British cottage and he loves redecorating it.

Spending a weekend in Palm Springs makes him glad. It's very restful there.

Anything British makes Davy feel glad all over.

He's glad all over when he has a chance to see his family.

Davy's glad when he has a chance to work on the three new cars he designed, the Davy Jones Specials.

He's glad when someone compliments him on his gold watch. He's wanted one all his life and finally bought one for himself on his 21st birthday.

Davy's totally glad about his two pool tables. They're 15 feet long and they're British.

Davy's glad all over when a girl likes him for himself and not be cause he's famous.
Things that make Davy sad

Permalink
When Davy doesn't get a good night's sleep, he's sad because he knows he doesn't look his best. He likes to look good for his fans.

Davy feels sad when he loses at pool, but he's much too good a sport to ever show his disappointment, because it would make the winner feel badly.

When Davy's been misquoted, he feels sad because he feels his fans have a right to the truth.

Davy feels sad when fans take something of his that he values highly.

Davy becomes very said when he hears people comparing him and the other Monkees to other artists.

He's always sad when he hears rumors about his being married because he isn't married and he doesn't feel that it's right for people to tell things that are untrue to his fans.

He becomes sad and mad when reporters say that the Monkees don't play their own instruments. They do.

He is sad when people ask him what he thinks of a town before he's had a chance to see it.

It makes Davy sad when he reads about how the Monkees are going to split up. They aren't.

He goes into a deep depression when magazines print his home address because it means that he will have to look for another place to live in order to get the privacy he needs.

Groupies make Davy sad because they don't stop to realize that there are nice ways to meet him instead of the rowdy and sometimes dangerous ways they choose.

It depresses Davy to see himself romantically attached to some girl in a magazine when he may have dated her only once.

Greasy food makes Davy very sad as it upsets him.