4 cups diced hot potatoes
4 slices bacon fried crisp
2 tablespoons bacon fat, browned
1 teaspoon salt
1 teaspoon sugar
1 teaspoon flour
1 teaspoon dry mustard
12/ teaspoon pepper
½ cup vinegar
½ cup water
1 medium onion cut fine
Combine dry ingredients and blend thoroughly. Add vinegar and water slowly until smooth. Add bacon diced fine, melted bacon fat and diced onion. Pour over potatoes but do not mix any more than necessary because hot potatoes become mushy. Serve at once.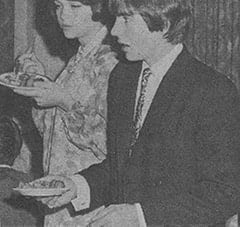 Ingredients:
6 tablespoons butter or shortening
½ cup sugar
1 egg (beaten)
½ cup molasses
¼ cup milk
1 ¾ cups flour
1 teaspoon baking powder
½ teaspoon soda
⅓ teaspoon salt
¾ teaspoon cinnamon
½ teaspoon cloves
1 cup of seeded or seedless raisins
Cream shortening or butter, add sugar, eggs and molasses—mix well. Add milk alternately with dry ingredients. Add raisins and a few chopped nuts if desired. Mix thoroughly and drop from a spoon on greased tins. Bake in moderate oven (about 350–375 F.) about 11 minutes. Yields approximately 48 cookies.
Magazine: Monkee Spectacular
Author: Salli Stevenson
Editor: Ralph Benner
Published:
Volume: 1
Issue: 3
Publisher: New Asbury Ltd. Publishing Co.
Pages: 44–48