Here are some groovy recipes… stolen from the homes of your four faves
Last night I had the grooviest dream! It was all about the Monkees, parties, and food. Since I went to sleep hungry, it was no wonder that what went on in my head centered around eating!
In my dream I visited each of the Monkees, stole their favorite recipes, and found out some new outasite things about each of them. Since I don't often have dreams like this one, I decided to share some of the fun and even a few of the recipes.
Mike's house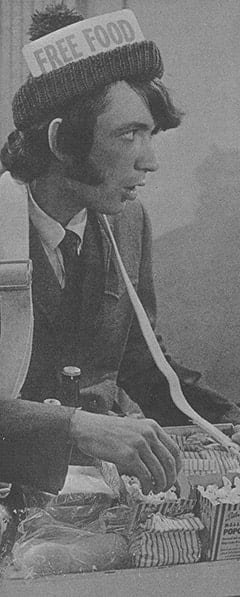 In the first section of my dream, I slithered up to a street somewhere above Sunset Boulevard, scrunched behind some bushes and through an open window, heard Phyllis Nesmith's voice inviting someone to a "Coffee". Thinking that perhaps I'd missed a word like party after the word coffee, I sped home and dug into my etiquette book. I found out that coffee parties are usually given between ten and twelve in the morning and that they are very popular in Texas where both Phyllis and Mike come from.
Everybody just kind of jumbles together and outshouts each other quietly about all sorts of subjects during a "Coffee". In other words, it's an early morning version of the tea your mother might give for the local P.T.A. and Phyllis and Mike like throwing these early morning wakeups because they find it's a more relaxing way of entertaining their friends.
Mike and Phyllis mixed up all kinds of super outasite things in the kitchen like muffins, and delicious Danish pastries and yummy outasite pop-overs. The pop-overs are Mike's little specialty. After everything was baked and the coffee was perking, Phyllis made sure the table was set and everything was ship shape and right where it should be. By this time I was screaming with hunger pangs! I knew I should have stuffed myself before hiding, and so when their backs were turned, I went in and slipped a piping hot roll into my face… crunch! Yummy, it was a pop-over and boy are they outasite! I scrunched back into my shadow just in time because Phyllis turned around to give everything one last check as the door bell dinged. The first guest had arrived and Mike helped her off with her coat and promptly put it in another room after shaking hands and then he came back and helped Phyllis make her comfortable.
Suddenly there was a flood of people at the door and everyone seemed to flow in at once. Well you can imagine how busy Mike's and Phyllis' hands were—taking coats and shaking hands and introducing people and everything. Mike helped Phyllis by getting coffee and rolls for some of the women and their husbands and made sure that everyone was having a good time. I've never seen him fly around so fast in my life! He might have been exhausted but you'd never know it from the way he spun here and there. Everybody loved the food and by the time the party was over and the last goodbye was said, there wasn't even a crumb left over for me to snitch… sigh!
When the guests were leaving, I slid outside and listened to them as they left and all of them were saying how groovy Mike and Phyllis were and what wonderful manners Mike had, always seeing to their needs and comforts and things. They also said that he was lucky to have a wonderful cook like Phyl around and how they wished they could have that pop-over recipe. Well, I kind of wanted that, too, so I sneaked out to Phyllis' kitchen and copied it down.
Dinner with Davy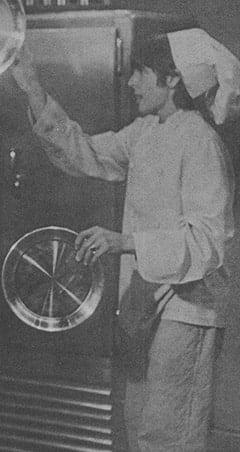 A voice out of nothingness whispered to me that sections of dreams have to end and it told me say goodnight to Peter and find Davy Jones. Davy was my last and final Monkee target and since a very close mutual friend of ours had told me earlier in the day when I was really awake that Davy had impeccable manners—that's long for perfect, I had to find out for myself in the dream. My friend also dared me to find anything wrong with Davy's manners at dinner and I never let a dare go by.
I reached Davy's house just before he left to pick up his date for the evening. Davy's date was a lovely looking blonde girl and he took her to one of the most outasite restaurants around and I trailed along. It was a special restaurant because Davy likes to make things special when he takes a girl out.
We entered the restaurant and the head waiter showed Davy and his date to a reserved table with the best view in the whole place and to top it off, it was right near a fireplace and the fire was a glowing, crackling blue, green, yellow, orange combination.
Davy made sure that the blonde, I never did catch her name, had the grooviest view of everything by seating her on his right. The waiter came over with the menus and helped them both make some fantastic selections and then Davy ordered for both of them. When the food came Davy waited for his date to start before he began to eat and I knew this was right according to my faithful etiquette book—but I scrambled through the book to find out if he was doing something wrong when he started to eat his meat. His fork NEVER left his left hand. He cut and ate everything with that fork in his left hand. Ah ha!! I thought I had discovered a dent in Mr. Jones' perfect manners. The book failed me miserably. He was right. I always thought that you cut with the fork in the left hand and then transferred your fork to the right hand to eat what you had cut. Now that's proper in America, but I'd forgotten that Davy was brought up in England. I knew he lived there, but I forgot that manners were different from those in America. Anyway he was the correct thing and then what really blew my mind was that the book said that Davy's way of eating meat was more widely accepted than the way a lot of us do it in America.
I was crushed. I hadn't been able to find one thing wrong with Davy's manners by the time that check was paid and they were ready to leave.
The alarm clock rang and I hated to wake up—but surprisingly enough I'd managed to jot down some fave recipes of the Monkees. Here they are—hope you enjoy them.
Micky and the picnic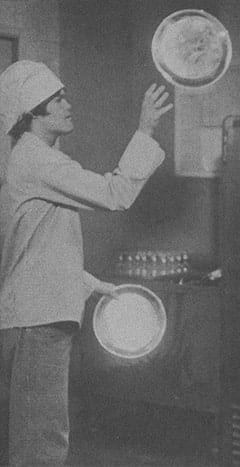 The next part of my dream starred Micky and how I loved playing a supporting role in that section. When I first saw him he was stuffing a picnic hamper full of all kinds of goodies. He had frankfurters, which he fixes in a special way, chicken, potato salad, soft drinks, cake and some of Davy's Delites. They're a kind of groovy cookie that ye olde recipe stealer stole from Master David's home.
After Micky packed two hampers, one full of silver and stuff—you know eating equipment, one hibachi (a Japanese type stove for living room and open air use) and a whole mess of soft drinks into his car, Micky hit the road for a place not too far from Malibu that's really an outasite picnic spot. He took some friends and since there was a pond where they could swim—they did. By the time they got out they were starved and I was hungry again!
Anyway they splashed out of the pond and headed for the hampers. One of his friends got the hibachi going and Micky showed a couple of the girls how to prepare his Picnic Frankfurters. Then they brought out all the other goodies and spread them out on this fantastic table cloth. Micky, of course, made sure that everyone had enough to eat and drink (he had a cooler for the soft drinks) and then they all decided to take a hike to walk off the wonderful meal.
When they got back from their walk, Micky and the other guys cleaned up the mess. WOW! I always had to clean mine up on picnics while the guys rested, but Micky and his friends are something else. They're really groovy people. They packed and scraped up that whole mess. The grooviest thing about it is that Micky was thoughtful enough to leave the place nice and spotless for the next group of picnickers who might want to use the same spot. After the messed up condition of some picnic areas I've seen, I think he's outasite!
Part three with Peter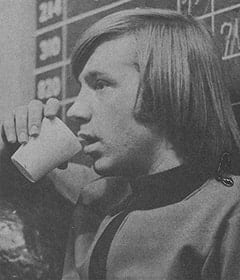 Suddenly the dream shifted and there I was sitting in Peter's car holding a super secret dish he had prepared for the Smorgasbord we were attending. I couldn't really believe I was actually going to this affair with Peter, but I guess anything can happen in a dream so I zinged along with Peter on cloud nine.
We screeched to a halt in front of the host's house and Peter took me in and introduced me to all his friends. Wow, was that ever groovy! He then took me with him to the table where he uncovered his dish and it was the greatest Old Fashioned Hot Potato Salad I'd ever seen or smelled. I could hardly wait to taste it. Peter asked me if I would like him to pick everything for me while I waited comfortably at a table or if I would prefer to join him in line. Naturally I just couldn't bear to leave his side for even one second and so I joined him in line. He's such a total groove! He preceded me in the line and served me and himself. He also picked up some punch for both of us and got some silverware and napkins for both of us. I really don't know how he managed to keep everything from spilling, but the load he was carrying didn't even tip slightly.
We went over to a nearby table and sat down to enjoy our meal. Peter had made sure that our plates weren't piled high with food so that we could have another serving of everything later on and he explained that people are expected to have several servings at a Smorgasbord. I told him that I was ready for some more of his super delicious potato salad and before I'd even gotten the words out of my mouth, he'd jumped up and was back with exactly what I wished for.
He was a complete angel and couldn't do enough to make sure I was having the most fantasmagorikest date of my life. We just talked about everything imaginable like all idealistic things and how you really felt about everything and where you were really at. When we were ready for dessert, Peter cleared the table (he wouldn't let me do anything) and brought back the greatest looking cake dessert you've ever seen. I never wanted this portion of the dream to end, because everything was so cool and Peter was fantabulous! I'm glad I was able to date Peter, even if it was only in my dream.
Mike's pop-overs
Take 1 cup flour, ½ teaspoon salt, 3 eggs and 1 cup of milk. Mix and then beat all the ingredients for five minutes. Put in hot greased muffin or cup cake pans and bake in a hot oven (400 degrees F.) for about 15 minutes. Turn the oven down when they have popped and let bake for 10 more minutes. Take them out of the oven and serve them piping hot with butter.
Micky's picnic frankfurters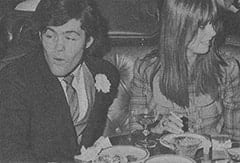 Slit frankfurters lengthwise. Spread lightly with Mustard and generously with cheese. Wrap a piece of bacon around each frankfurter and stick a toothpick through it to hold it together. Roast over a picnic fire or broil in an oven for 10 minutes. Serve with Hot Potato Salad or between hot buttered rolls.
Peter's old fashioned hot potato salad
Ingredients:
4 cups diced hot potatoes
4 slices bacon fried crisp
2 tablespoons bacon fat, browned
1 teaspoon salt
1 teaspoon sugar
1 teaspoon flour
1 teaspoon dry mustard
12/ teaspoon pepper
½ cup vinegar
½ cup water
1 medium onion cut fine
Combine dry ingredients and blend thoroughly. Add vinegar and water slowly until smooth. Add bacon diced fine, melted bacon fat and diced onion. Pour over potatoes but do not mix any more than necessary because hot potatoes become mushy. Serve at once.
Davy's delites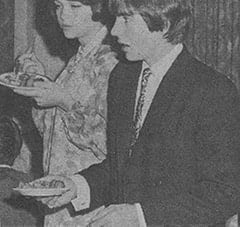 Ingredients:
6 tablespoons butter or shortening
½ cup sugar
1 egg (beaten)
½ cup molasses
¼ cup milk
1 ¾ cups flour
1 teaspoon baking powder
½ teaspoon soda
⅓ teaspoon salt
¾ teaspoon cinnamon
½ teaspoon cloves
1 cup of seeded or seedless raisins
Cream shortening or butter, add sugar, eggs and molasses—mix well. Add milk alternately with dry ingredients. Add raisins and a few chopped nuts if desired. Mix thoroughly and drop from a spoon on greased tins. Bake in moderate oven (about 350–375 F.) about 11 minutes. Yields approximately 48 cookies.