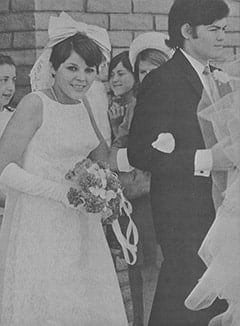 Micky plays Best Man for his Best Friend Ric Klein while the other MONKEES look on!
It was a great day for Micky! His best friend was getting married to a wonderful girl and Micky was best man. The wedding was exciting for everyone and the reception afterward gave everyone a chance to relax!
Micky looked completely at ease throughout the ceremony, but when someone kidded him about being next, he just gave that famous grin of his and failed to answer!
No one knows when the next Monkee Wedding will take place or who will be the participating Monkee. But one thing's for sure. There will be one and it may be sooner than anyone expects!