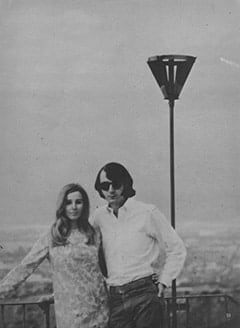 I just bought a fabulous new house and I'd love to tell you all about it. There was already a house there, but I'm having $50 thousand worth of remodeling done. The best way to tell you about the house is to take you on a tour. So here we go…
The house is a big brick one that sits on the highest lot in Bel Air in Beverly Hills. Out front is an eight-car garage with a huge "lift" in it like a service station. It has an air compressor and a complete set of lathes and tools so I can build whatever I want to build. You know I'm car crazy. It's got a car wash unit, too, sort of a spray thing.
Outside there's a 2000 pound gate that's electrically operated. There's a TV camera at the gate and one at the front door too, so we can see who it is calling on the intercom system. The gate can't be opened except by a device in our car and one in the house.
The house sits on a three-acre lot. One full acre is all forest. As you walk up to the front door, you go through a winding garden path with white crushed rock on either side. The path is heated by an outdoor heating system.
When I bought the house it didn't have very many bedrooms, so I'm remodeling it. The house cost $200 thousand and I'm remodeling it for about $50 thousand extra. When it's finished the house will have approximately 7000 square feet in it.
There's a 60-foot pool that comes into the house. It's got a sunken barbecue pit in a lanai area, which is where the pool comes in. It's half indoor pool, half outdoor.
One of the many things I'm adding on is a soda fountain and ice cream bar. There will be four fireplaces in the house when it's finished. There's a radar oven in the kitchen which cooks steaks in about 40 seconds. There's a manual that comes with it so we don't burn things after they've been in only seconds. It also has walk-in refrigerators.
All the doors are electrically operated by a capacitor, so you just wave your hand over a certain place in the door and it slides open. They also have electric locks on them. You can turn a switch when you're in or out of the room and it makes the capacitor so it won't work.
There's a complete sound studio—an irregularly shaped suspended room with acoustical tile, cork and everything like that, but it's not for recording, it's just for playback. I've got quite a bit of my own equipment that goes in there, about $250,000 worth.
The lighting system is really a gas. The lights can be as bright or as dim as you want them. The phones in the house will, instead of ring, play a march. I have several changes for the tapes already—operas, Beatle albums, stuff like that—just anything I feel in the mood, I just have to change the tapes.
Much of the house is in pegged walnut paneling. There are big, warm carpets on the floor; also, lots of stone and brick. Much of the furniture is heavy copper with a lot of Spanish influence, big wrought iron pieces, things like that. But always very casual, very comfortable, very casual.
The bathrooms have big sunken tubs, gold faucets and gold sinks. Christian's room will probably just be like a teenager's room because it will be his room for many, many years. It will be a normal boy's room, nothing special. I'll probably build a whole playhouse for Christian in the backyard. But he kinda doesn't dig that stuff. He just likes being around normal people. He doesn't dig being a kid.
Along with the house I've bought a new dog. His name is Fraak. He's attack trained; I got him as a protection dog for Phyllis and Christian for when I'm on the road.
Spotte's a female and Fraak's a male, so they get along fine. Why do I spell Spotte's name the way I do? Well, I must have been in one of my whimsical moods when I named her.
Back to Fraak. He's very vicious, a highly trained dog from Germany. He can be gentle with anybody. That's how he's different from a police dog, who's just mean. Fraak is very gentle, a house pet. People come over and everything is just fine as long as one of us are there. But if we're away or if we give the command he chews people to bits. I have to go to school so I can learn the commands. But it will be groovy then.