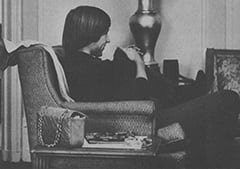 Well, well, my precious. What news have we this month for our friendses?
After suffering an absolute lack of concerts for months, Hollywood finally pulled one off. CAFF (Community Action for Facts and Freedon [sic]), the organization of businessmen that's been trying to help out the Sunset Strippers throughout the continuing crisis, sponsored a benefit show at the Valley Music Centre about ten miles from home.
PETER, PAUL AND MARY topped the bill and were literally breathtaking. The uh, ahem, BUFFALO SPRINGFIELD preceded them and were, well, uh, fantastic, fabulous, outtasight, whatever.
THE BYRDS, complete with a blond Bob Dylan, formerly known as CHRIS HILLMAN and a Japanese samurai, once called DAVID CROSBY, played several songs from their new album (which is great), but somehow gave the impression that they were four studio musicians who had been rounded up at the last minute.
THE DOORS, who are just about the only group that really is from Los Angeles, started the show. Instrumentally, they're the best. But maybe I'm prejudiced. The lead guitarist, Robbie Krieger, sometimes plays slide guitar, to which I am partial; the organist, Ray Manzarek looks kinda like John Sebastian, to whom I am partial; and the drummer, John Densmore, has long sideburns, to which I am…
The afternoon of the concert, we took Clancy, the former bass player for the Quick Silver Messenger Service, who had just returned from Toronto, to a "Stampede in the Sky," that is, a party by and for the (here they come again) Buffalo Springfield. Just to show you that it was a great party, in spite of the fact that I showed up, the guests found labbing and jorking were: PETER TORK (in a magnificent, huggable sweater), PETER YARROW (of PPM), GEOFF STEPHENS (who wrote the "Girl Who Stood Beside Me" and can stand by me any time), the UFO, the DILLARDS (may we take Rodney home), DEREK I'm-quitting-the-rock-and-roll-business-any-day-now TAYLOR (complete with Remy Martin), DEANA MARTIN, MARVIN GAYE, BARRY McGUIRE (I thought he was alive and well in Argentina) and many others I'm sure that I missed because I was too busy hugging Richie (see pic) (You did print it, didn't you?) (Chicken!)
Went to see the NITTY GRITTY DIRT BAND and LEE MALLORY at the Ice House. The NGDB were great—very old timey, with washboard and all. Some of them went to the same school I did, but we never knew each other, which shows you where we were at then.
My heart was stolen by Lee Mallory, who is not only beautiful and talented (is there a better combination?) and he always has a giant pink key on stage with him—it's 7 foot tall and says "Lee Surely Does" on it.
NOTE TO KEITH ALTHAM, esteemed fellow columnist: Now that you've discovered Timmy Hardin, why not try Freddie Neil?
NOTE TO NEIL: Make them repeat "A little honest funk never hurt anyone" over and over and give them some Indian beads and ribbon shirts and who knows? Maybe San Fernando Valley will like them anyway!
MY OUIJA BOARD SAYS THAT THE LEAD GUITARIST OF A VERY FAMOUS WEST COAST GROUP WILL BE LEAVING SOON. AND MY OUIJA BOARD NEVER LIES.
A long time ago ("Many moons ago, sahib") I mentioned a group called "HEARTS AND FLOWERS"—they're coming along nicely. As are the OMNIPRESENT DAFFODIL, who will have their first record out soon.
Clancy, who is old friends with just about everybody, is old friends with MONKEE PETE, so as soon as he got back to H'wood, there was Peter, standing at the door of MY house, walking on MY floor, sitting on MY couch, drinking out of MY mug. Of course I listened eagerly (as in "with bated breath") to every word that issued forth from the Monkee Mouth, and found out, much to my dismay, that long ago (as in April, 1966), he performed at the Troubadour here in LA and I was at the opening, but instead of staying out front and seeing a preview of the Monkee we know today, I was backstage talking to the headlining act. I was crushed. (Peter, I noticed, was taking it well.)
Please get your grimies on "Crank Your Spreaders"—tiny but powerful little paperback all written and drawn by the ASSOCIATION. I was going to mention some of my favorites, but the list began to look like the table of contents. In fact… (the pix of Ted and Russ are fab)!
One of my favorite scowling Scorpios (there are others), GENE CLARK, played ten days at the Ash Grove, a folk and blues club this month with the Gosdin Brothers. His songs are more beautiful every time I hear them (and Gene isn't bad either) and that lovely gently cracking voice. I hope he's around for a long time.
A group that's also around, the MERRY-GO-ROUND, containing the aforementioned Billy Rinehart of various groups and Joe Larson of San Francisco and "Who's that on the motorcycle?" and lead singer and composer Emitt Rhodes (formerly drummer with the Palace Guard) are one of the cutest, most talented, rather young, friendliest, sweetest group I care to think of…
SPEAKING OF THE SEEDS…