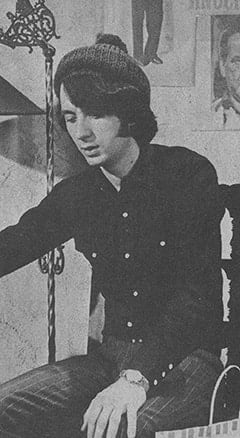 HARPO, the ever-beaming Raider, who, though he has trimmed his 1900-style sideburns, is still as charming as ever (ever-charming?). Besides his regular Raider duties, Jim's been looking after old pal and former Raider DRAKE LEVIN, "I guess his first record isn't going to do anything," he sighed. "So I'm trying to convince our producer, TERRY MELCHER, to take Drake in hand. Drake's been writing so much good material, I hate to see it going to waste. In a couple of months, he'll be on his feet!"
On one of my many days on the MONKEE set, I met Mike's beautiful mother. She has reddish-auburn hair, dresses very smartly (no boots, though!) and is as proud as she can be of her son. "He's always been a good boy and he always did have a way with humor. But I never thought he'd make this kind of use of his talents!" Mike is continually adlibbing in his delightful drawl while the boys are shooting—nothing could have pleased his mom more than to see the way everyone enjoyed his work.
Hope our neighbors like the YOUNGBLOODS album. It's taken its rightful place among the BUTTERFIELD, HARDIN, SPRINGFIELD, SPOONFUL and STONES LPs that are wearing out the old turntable (also the record player).
On one of my many (I hope) sojourns to San Francisco, I caught the RASCALS at the Fillmore (and didn't drop them for a week). They are among the best performing groups I've ever seen—only the MONKEES and RAIDERS work as hard as they do for their audience. The Fillmore was jammed, which was surprising as the crowd there usually likes only the most psychedelic of the psychedelic groups. But both nights, the New Yorkers received well-deserved standing ovations. (Clancy asked me to thank their road managers, Andy and Lenny, for putting him up in their hotel room after he gave away all his money—50 cents—to another starving musician.)
Back down in Hollywood, we conned (Kahned?) RASCALS GENE and DINO into taking us to the Whisky to see SMOKEY ROBINSON AND THE MIRACLES. When we weren't staring at Gene and Dino, we watched the Miracles, who had everyone clapping and tapping and practically dancing in the aisles, only the Whisky was so crowded, there weren't any aisles to dance in. MAMAS CASS and MICHELE [sic] and PAPA JOHN were in the booth next to us and BOBBY HATFIELD of the Righteous Brothers occupied the third booth. Genie the Tailor (of RAIDERS and MARK LINDSAY and the HARD TIMES and LOVIN' SPOONFUL STEVE BOONE fame) designed the Whisky dancers' new costumes. One set looks just like the newest Raider outfits—red velvet with long sleeves and ruffles at the throat, but instead of white tights, the girls wear uh, bikini, uh, pants…
Memo to KEITH ALTHAM (my typewriter pal): You want a new rock and roll group that doesn't copy the Beatles? Have I got a group for you…
THE BUFFALO SPRINGFIELD are trying to decide on their next single following their great "For What It's Worth" smash (hoorah!). What do you do when all you have to choose from are A-sides?
Ever wonder what happened to the MFQ (ever hear of the MFQ?) They were first the Modern Folk Quartet and made two folk albums and then last year added a drummer and became the MFQ and were one of the best rock and roll groups to die prematurely. Bass player CHIP DOUGLAS, after a brief gig with Gene Clark and The Group (another good band that hit the dust), joined the Turtles and added great beauty to the list of Turtle attributes (as if they needed more): talent, humor, excellent voices, good songs, whatever. Also, he's been asked by the MONKEES to be their producer. Tad (Henry) Diltz lives up the street from us, but is the SPOONFUL'S official photographer most of the time (you were wondering where those pix on my wall came from?) Cyrus lives scross [sic] the street and Eddie Hoh (Ho, ho, ho) is the drummer for the MAMAS AND PAPAS. Jerry Yester (as you will remember if you read my story in the March issue) is producing his brother Jim's group, the Association. Aren't you glad you asked?
As if we weren't lonely enough already what with Clancy gone, the OMNIPRESENT DAFFODIL went on an exhausting tour of the South and Midwest. Since very few people have seen or heard the Daffodil's music, I asked lead guitarist Lee Ragland to describe their bag. "We like to call it 'phrotius' rock'—it can be anything you want it to be."
There are still all too few places to go hear music of an evening in Hollywood. We're limited to Gazzarri's, where the DAILY FLASH, McCOYS and SPRINGFIELD have performed (and the Doors, a psychedelic new group) and the Hullabaloo, a wretched barn of a place, on the weekends, where the SEEDS, the SPRINGFIELD and LOVE have appeared.
Well, I've got to hand it to the STONES (if I ever get close enough). 'Between the Buttons' is a groovy album. Each song is different and exciting and the arrangements are, well, outtasite. Still can't get over an album containing everything from "Let's Spend, etc." (that horribly nasty song) to "Ruby Tuesday" (with great lines like 'catch your dreams before they slip away'). I publicly admit that they are talented, skillful, original.
Speaking of the Seeds…