And the parts are you and me,
Where's the little something, the extra little something
We don't add up to be?
"Nick Thorkelson is younger than Peter, my age, and is going to school in Wisconsin. Nick's a groovy guy… warm like Peter and he's got the same quick mind.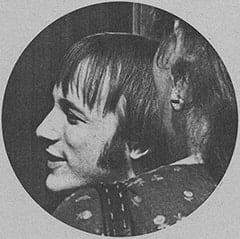 "We never got the trio good enough to play at any clubs besides the Four Winds. We had to work so long at night that we never had time to actually rehearse. It was easier to just learn a song and get up and try to make it fall together on stage. This is how the Buffalo Springfield was created. It was all just off the cuff. It had to be… we were all so durn poor! After work, we used to go up to the 42nd Street movies and stay till morning, then ride the Staten Island Ferry.
"Peter was such a groovy person. He used to talk a lot and have a lot of energy. He wore sweatshirts and jeans and hole-y tennis shoes with no socks. [He still does… see page 46.] He finally left New York when he decided that he wanted to play rock and roll bass. He does play rock and roll bass, you know, Anyway, everybody was saying, 'There's gold in California!'
"I ran into Peter Tork again when a guy named Ron Long and I had a duo called the Buffalo Fish. We were playing at the Golden Bear in Huntington Beach and lo and behold! There was Peter Tork! He was playing guitar and banjo behind anybody who needed an accompanist. Hanging out, in general. I told him about the television show that Screen Gems was putting together and said that he should go down there and try out for a part. He said he would but he didn't, so I called him again. I knew that even if the show was only on for one season, he could establish himself as a comedian. And who knows where that can lead?
"So, Peter Tork took the job and became a Monkee." And they said "There's gold in California." And who knows where that can lead?
Magazine: TeenSet
Authors: Ginni Ganahl, Stephen Stills
Editor: Judith Sims
Published:
Volume: 3
Issue: 6
Publisher: Capitol Records Distributing Corp.
Pages: 40–41