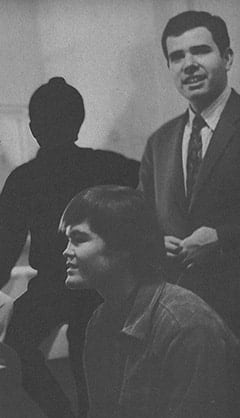 This is what The Monkees dressing room backstage of an appearance looks like. Visitors (Such as WMCA's key DJ, Gary Stevens) crowd the room, Monkees try to grab twenty continuous seconds of peace, and everybody kind of gets in each other's way!
But, out of the madness (at least, at the moment we took this picture), was one of the super-stars! He perched on a make-up table and just kept to himself, something he often does, anyway.
Can you identify the super-star in the shadows?
If you can, a Surprise Prize will be yours quicker than you can say, "Davy, Micky, Peter and Mike!"