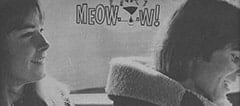 The never-before-told stories about your favorites from the gal who PERSONALLY knows them all—ANN MOSES
Latest addition to DAVY JONES' groovy apartment is a tiny gray kitten, named Tibs, that bites strangers, but not DAVY. To date, DAVY has received over 500 pair of cuff links and receives on the average of eight ties a day.
THE MONKEES can hardly get into their dressing rooms these days—the floor is covered with a layer of three-foot-high mail sacks full of letters.
MIKE has added more flashing lights to his dressing room. Now they line the outer ceiling and flash in red and green. He has also had post cards made and has been writing to as many fans as time permits. Still he keeps telling me, "All my mail is about the other Monkees!"
To promote one of his European discs "No Milk Today," HERMAN flew to Holland and spent an hour in a freezing refrigerator so cameramen could film interviews with a conveyor belt filling crates with milk in the background. One interviewer asked, "Do you really like milk?" To which HERMAN replied, "Never drink it except in the mornings."
DONOVAN confirmed reports that PAUL McCARTNEY's voice was on his "Mellow Yellow" single. He also mentioned that he went to the BEATLES' "Yellow Submarine" session and helped with the lyrics.
At a 21st costume birthday party for GEORGIE FAME's fiancee, JOHN LENNON came dressed as a priest (complete with moustache and round glasses) and PAUL as an American Civil War officer. At the party they staged a wedding rehearsal with JOHN as the officiating priest.
On the STONES' new LP the high-pitched whine on "Please Go Home" is CHARLIE's wife screaming! Another, called "Miss Amanda Jones" is all about a groupie.
Other weird sounds—the siren you hear on the STANDELLS' title song for the movie "Riot On Sunset Strip" was made by TONY VALENTINO, not a special effects record.
MITCH RYDER has parted company with the DETROIT WHEELS (who will continue to record on their own) and organized the MITCH RYDER SHOW. He'll be backed by a 10-piece orchestra a la JAMES BROWN.
THE WALKER BROTHERS are currently touring Europe since they cannot work in England for six months because of work permit restrictions.
At "Action" the other day HARPO found some lovely stuffed birds and bought them for the whole cast to wear. So when you see those bird and butterfly pins you'll know who's responsible.
For their first big concert in Los Angeles since October, the RAIDERS had GENIE THE TAILOR design a new set of costumes. The concert was put on by radio station KBLA, who also sponsored a great rock show in January starring SONNY AND CHER, the ASSOCIATION, the STANDELLS, TURTLES, BUFFALO SPRINGFIELD, SEEDS, COUNT FIVE, LOVE, GENE CLARK and several other acts. The nice part was that all the tickets were free. They went to the first 15 people to phone the station each hour on a given signal.
NEW TO YOU: There are so many hot new groups, I could devote 1000 pages to them.
Like the MERRY-GO-ROUND, a young and exciting group on A & M Records. They called themselves the MERRY-GO-ROUND because they felt "Life is a big merry-go-round of emotions and the songs we sing tell about how we live, so it seemed right." Members of the MERRY GO ROUND include BILL RINEHART, bass, EMMETT RHODES, rhythm guitar, GARY KATO, lead guitarist and JOE LARSON, drummer.
THE EAST SIDE KIDS have been pleasing audiences for some time now at The Hullabaloo Club and have just released their first record called "Close Your Mind." Contrary to what you might think, they aren't from New York. They chose their name because they're all from the East side—of Hollywood!
TIM MORGAN, long-time top folk artist, has recently changed to a folk-rock combination which beautifully shows off his superb voice. His first appearance with the rock backing was at the popular Glendale Ice House; and he received rave reviews.
A new talent, JONNA GAULT, had so many things going for her as a singer, composer, performer and record engineer, they invented a new title to identify her—she's the first female Sincomperneer!
DO YOU SHARE A BIRTHDAY WITH A STAR? LUKE HALPIN, April 4th and BILLY JOE ROYAL, April 3rd.
DINO, DESI AND BILLY did a great job on "The Dean Martin Show." They say their latest single, "If You're Thinking What I'm Thinking" which is the title song to the movie, "Murderer's Row," in which they make a guest appearance.
In England, THE WHO, are the stars of a pilot television show, which could develop into Britain's answer to "The Monkees."
When I first saw THE YOUNGBLOODS at the Hullabaloo Club I was really impressed with their great sound, but their first RCA album made me a YOUNGBLOODhound for life!
What did the MONKEES think of JEFFERSON AIRPLANE after they saw them at Basin Street West in San Francisco? "Groovy!" shouted DAVY and "I didn't realize how great they were," said MICKY. It won't be long before all America will catch on to the outasite AIRPLANE sound!
If you like the sounds of THE MAMA'S AND PAPA'S, then get ready for an even more exciting sound. THE BALLROOM, a new group that you'll be hearing soon, has the most advanced vocal harmonies put to the most beautiful lyrics to come along.
There's only one word to describe SONNY AND CHER's first film—Sensational! I hope we don't have to wait so long for their second film.
In the dressing room at the last "Action" taping, TINA and LESLIE were giving FANG lessons on how to do "The Skate."
At the BUFFALO SPRINGFIELD's (I love 'em!) opening at Ondine's the groovy group was cheered by such notables as the YARDBIRDS, LEFT BANKE, JAY and the AMERICANS, the BLUES MAGOOS and the MOTHERS OF INVENTION.
THE DAILY FLASH joined STEPHANIE and NOEL for a segment of "The Girl From Uncle."
As SMITTY would say, CRAZYDIDDLEYBOP!