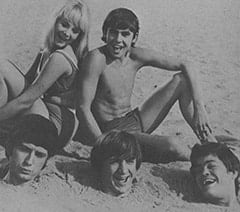 We've got gossip, gab, and exclusive info on all of your favorite singers and stars. And you won't want to miss one single syllable!!!!
DUSTY SPRINGFIELD visited her friends almost every day during her New York nighthclub engagement. The gals had a ball going shopping and doing lots of sightseeing. Fans mobbed them wherever they went and they loved it.
GARY LEWIS is in the Army . . . NEIL SEDAKA said at Miami Beach's Eden Roc Hotel that his new five-year contract with Screen Gems guarantees him a cool $1,000,000. And with a new baby on the way to the Sedaka homestead, this money will come in mighty handy for diapers, bottles and booties . . . $1 million worth of booties?!?!?!?!? Oh, well.
Special Scoop: Did you know that both GEORGE and PATTIE wear coats by the same designer—and that that designer is MARY QUANT? Just goes to show how far happily-marrieds will go for "togetherness!"
The word around is that there's a deal between THE BEATLES own PAUL McCARTNEY and his long-time girlfriend, JANE ASHER. It goes this way . . . so I hear . . . Jane wants nothing more than to build a solid acting career for herself . . . and Paul; up till now, has agreed to hang around while she worked at it. Paul's new rules call for Jane to continue with her career, but with Paul as her husband. For his own career, Paul intends to continue as a songwriter and an actor . . . making occasional . . . and very highly-paid . . . appearances with the group. Jane has agreed to become Mrs. McCartney sometime before next spring.
The posh Army Officers, Cadets and their dates were entertained at a private party after the Army–Navy football game by those swingin' RONETTES. And they dug them the most . . . to say the least!
Special Scoop: THE WALKER BROTHERS all wear gift I.D. bracelets from their manager, inscribed, "Make It Easy on Yourself" . . . to help do this, they wear crash helmets when leaving theaters after doing a show—to keep the fans from pulling their hair!
MIA FARROW's teaching hubby FRANK SINATRA to do the swim, monkey and jerk! . . . Frank's youngest dotter, TINA SINATRA, and her SAMMY HESS, are getting married sooner than soon. Poppa Frank couldn't be happier . . . he likes Sammy very much . . . Meanwhile, NANCY SINATRA and her "boots" are dating RON JOY, the photographer who used to date PATTY DUKE . . . Even Frank's former wife, NANCY SINATRA, SR., is making news. She seems to be dating movie producer ROSS HUNTER (he made SANDRA DEE famous) a whole bunch.
ANJANETTE COMER won a long-term contract deal from Universal Pictures . . . Actress LUCIANNA PALUZZI and actor-singer TRINI LOPEZ are making the steady-ish scene in Hollywood . . . THE SUPREMES winged via jet to Japan to record three of their biggest hits . . . in Japanese . . . natch.
ELVIS PRESLEY wanted YVONNE CRAIG as his co-star in a motion picture, but Yvonne said "no thanks" to the offer. She told Elvis she had nothing against him . . . it's just that she wants to do very dramatic roles from now on.
Congratulations go out to STEFANIE POWERS and GARY LOCKWOOD for a most original wedding. They were married on a boat in the Pacific Ocean for fear that "The Girl From U.N.C.L.E." fans would ruin a church wedding.
SUZANNE PLESHETTE and millionaire TOMMY GALLAGHER are looking at engagement rings. Suzanne, as you know, was once married to TROY DONAHUE . . . who, as you might not know, eloped with actress VALARIE ALLEN in Ireland while he was making a movie for American International Pictures . . .
Special Scoop: Here's a practical joke to end all . . . When HERMAN met ELVIS, he was teased a lot about his hair and his famous tooth . . . But that was nothing . . . Elvis and his friends tricked Herm into standing under a film-set waterfall . . . Then they turned it on and got him soaking wet! Herm wasn't mad, though—just a little drippy!
Friends are saying that it sure does look like wedding bells for EDDIE FISHER and CONNIE STEVENS . . . who recently was divorced from that handsome actor JIM STACY.
Would you believe . . . that DON ADAMS is writing his first serious novel? Honest, chief!
BOBBY RYDELL may be doing his own television show next season. He hopes it can be done on the East Coast so he won't have to sell his New Jersey mansion and move to California . . . and he also hates the thought of leaving that "special someone" from Philadelphia.
NATALIE WOOD and Hollywood agent TERRY DENE are also to be listed on the romantic list . . . Those stories that "Time Tunnel" stars JIMMY DARREN and ROBERT COLBERT aren't friends aren't true . . . JOHNNY RIVERS has been telephoning a pretty-and-young New York reporter almost every day. He sends her gifts from all over the world, too . . .
SONNY & CHER, who recently got back from concerts in London, Paris and other European cities, won't see their first flick, "Good Times," right away. Wouldn't ya know . . . it will premiere in Europe first!
DIANE McBAIN will star with ANNETTE FUNICELLO and FABIAN in "Thunder Alley", the stock car racing feature for American International Pictures. Diane's most recent starring role is opposite ELVIS in "Spinout."
Special Scoop: Strange things do happen at ROLLING STONES tours . . . Recently, when a mob of fans lunged, KEITH really went down fighting! But the odd thing was that he never let go of his guitar! Real showmanship, there!
ADAM WEST celebrated his 37th birthday on the "BATMAN" set in Hollywood. Holy middle age! BURT WARD, his Robin, bought the birthday cake.
JILL HAWORTH and SAL MINEO are still a romantic item after some five (or is it six?) years . . . The hottest items . . . American, natch . . . on the teenage black market behind the Iron Curtain, says PAUL ANKA after his tour of Czechoslovakia and Poland, are leather patches which are sewn onto blue jeans in the hopes of making them look Uncle Sam-ish!
The romance between JACK JONES and CHRIS NOEL is over . . . Ditto for the romance between RICHARD CHAMBERLAIN and JOAN MARSHALL.
CHRIS ROBINSON shocked friends with the announcement that he'd been married to his secretary, PHILLIS YARWOOD, since June. Why the secret till now? No one knows!
Columbia Pictures is spending almost $50,000 for a beautiful four-room suite to serve as JERRY LEWIS' dressing room on the set of his next picture.
Special Scoop: A recent letter from DAVID McCALLUM to his parents back in the good old, merry British Isles was written on a piece of cardboard from a grocery carton—and it was written with a red felt pen! We're just wondering how he sent it through the mail??
HERB ALPERT AND THE TIJUANA BRASS will do their first special for ABC-TV in March. Herb, by the by, just spent over $200,000 for a mansion in California and over a million $'s for the old CHARLIE CHAPLIN film studio in Hollywood. He's a mighty rich man.
Don't be to surprised if you see PETULA CLARK on her own CBS television summer show . . . FESS PARKER, who's already a millionaire, thanks to his "DANIEL BOONE" series, just became richer via two oil wells.
GEORGE HAMILTON just hired the biggest press-agent firm in the U.S. to change his image. I can't see where this divinely-handsome and talented man needs changing . . . to me, and I'll bet to LYNDA BIRD JOHNSON too, he's perfect in every way. Agree???
ABC-TV wants RICK NELSON to do a "young-set-type" television show this summer . . . "The C.A.T.", ROBERT LOGGIA, is preparing a night club act. He plays the guitar and sings very-very well.
Special Scoop: BRIAN WILSON, a BEACH BOY, is very upset with the Beverly Hills police. Brian has always wanted to own his own live camel, you see. When he finally bought one, and took it home to Beverly Hills, the police warned him that he had just a few hours to get rid of the camel or risk a charge of disturbing the peace. Brian gave his pet to the Los Angeles zoo.
ROY ORBISON, who's starring in MGM's flick, "The Fastest Gun Alive," bought two old autos that he discovered on the studio's lot. Roy now has nineteen antique cars . . . and several gold records . . . via his million sellers.
ELIZABETH TAYLOR says her knees are too big for mini-skirts!
STEVE McQUEEN has formed his own companies . . . movie production, publishing music and making records. And, of course, he's one of our finest actors on the silver screen.
REX HARRISON has been laboring the past few days at a San Fernando Valley, California location doing a minuet with a two-headed llama for a scene in his second film musical, "Doctor Doolittle." The scene evoked memories of his prior musical, "My Fair Lady." "This time," said Harrison wryly, massaging his aching feet, "I certainly could NOT have danced all night!"
LIZA MINELLI, daughter of JUDY GARLAND, has been signed by ALBERT FINNEY for one of the leading feminine roles in "Charlie Bubbles," which Finny [sic] is starring in and directing in Manchester, England. The straight acting role of Finney's American secretary marks Liza's first appearance in an English film.
Special Scoop: GORDON WALLER bought a cute monkey recently, but he had to give it away after only one day of ownership! Why, you ask! Well, believe it or not, it was because of the nasty things the monkey wrote on the wall!
BARBARA PARKINS just bought the house next-door to the one ARON KINCAID owns . . . and MONKEES DAVID and MICKEY [sic] live up the road.
Want some good listening? Give an ear to "The Face I Love" by SYLVIA TELLES on Kapp, "THE HAPPENINGS" on B.T. Puppy Records, "TERRY KNIGHT & THE PACK" on Lucky. Eleven, the original television score of "The Green Hornet" on 20th Century, DAVE CLARK FIVE's "Satisfied With You" on Epic and "The Feel of NEIL DIAMOND" on Bang.
Till next issue—bye!