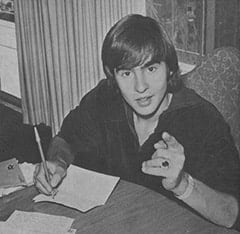 A Swinging 16 Super Easy, Outasite Scoop!
Wow! Wow! WOW! They said it couldn't be done—but 16 Magazine and that super, swinging Monkee, Davy Jones, have done it. What?!
Why, we fixed it so that you—and that means YOU—could spend a whole, entire, complete, delicious, delightful, delovely day with the one and only Davy Jones! Here is just a taste of what your fantastic and wonderful adventure is going to be like:
You and your chaperone will be transported by car, train, bus, airplane or magic carpet (depending on where you come from) to wherever Davy happens to be on the day of the big contest pay-off. Lately, Davy has been doing a lot of traveling from Los Angeles to New York City. So if the Win A Day With Davy Jones Contest prize is awarded while Davy is in New York City, then that is where you and your chaperone will meet him. If, however, Davy is sunning it up in lovely Los Angeles (same place as Hollywood, bubie—it's just such a groovy place it has to have two names), then that's where you will be transported.
In other words, wherever in this whole world Davy is when "dream day plus zero" arrives, you can be super sure that you and your chaperone are slam-bang right on the spot with Davy. During your day with Davy you will have brunch, go sight seeing, and be taken on a shopping spree in which Davy will buy you $100 worth of groovy presents—like the kind of clothes you and Davy dig, a bottle of Davy's favorite cologne Yardley's Oh!de London for you to wear, a super surprise, secret gift (which Davy will have chosen for you in advance), and a set of souvenirs from whichever swinging city you're in for you to take home and show, or give, to all your friends. After an unbelievable day of fun, there is still more to come! In the evening, Davy Jones will take you out to dinner and then on to a swinging disco or club (or two).
But more important than all these outasite thrills and surprises is the fact that you will be right by the side of that adorable Monkee—Davy Jones. He will hold your hand. He will talk to you. He will probably ask you some questions (if you're bashful, don't worry—Davy is easy to get to know and be friends with), and you will have the time of your life with one of the most wonderful boys in the whole wide world!
What do you have to do to have this dream of a lifetime come true for you? Practically nuthin', my dear—it's E-Z-ier than ABC and ten times more fun. You can bet on that!
All you have to do is write a one-page letter entitled: "Why I Would Love To Spend A Day With Davy Jones." Make your letter simple and sincere; write it just as if you were talking to your closest friend and telling what Davy means to you. Write on one side of the paper only—don't write on the back.
When you have written your letter, choose a photograph of yourself taken recently. Attach your photo to your letter—then fill in the coupon on this page, cut it out and mail it, together with your letter and photo, to the address on the coupon. (Note: no photographs will be returned.)
All letters will be judged by Davy Jones and Gloria Stavers, editor of 16 Magazine. They will select the one letter which in their judgment is the best—the most heartfelt and the most sincere. And the writer of that prize-winning letter will spend a heavenly day in Hollywood or in New York City with Davy Jones.
And that's not all! The writer of the prize-winning letter will also receive a personal note from Davy, a large, glossy, personally autographed portrait of Davy, and a copy of the brand-new Colgems' Monkees LP, More Of The Monkees, plus a full-year's free subscription to 16 Magazine.
Five runners-up selected by the judges will also be given prizes: each will be awarded a personally autographed portrait of Davy, a copy of the Colgems' LP, More Of The Monkees, and a full-year's free subscription to 16 Magazine.
So get hoppin', little ones! Pick up a pen, a pencil or a typewriter and write that letter rightaway!