With This Month's Guest Guru, None Other Than The Hard Times' own RUDY (THE BEAUTY) ROMERO!
Hi there! It's Rudy of the Hard Times, about to take you on an exciting excursion into the world of pop groups. But before I do, I want to thank all you Hard Times and Action fans for all the wonderful letters you've been sending us—and I also want to assure each of you who writes that you will get an answer. So come ahead and drop us a line. That's the Hard Times, care of Dick Clark Productions, 9125 Sunset Blvd., Los Angeles, Calif.
Recently, while the Beach Boys were in London, Mike Love and Carl Wilson paid a surprise visit to the Four Tops when they were rehearsing for the BBC-TV show, Pop Inn . . . The Rascals, who were a smash in London, looked outasite when they arrived back at JFK Airport in New York. This fabulous group seems to be booked all the time (I mean, Gloria Stavers keeps complaining that she can't catch 'em with her butterfly net long enough for photos and an interview—better pick up on that, guys!) . . . A sure bet for stardom is a stunning, bezazzling Puerto Rican group called the Living End. They sing at The Scene, the top disco in San Juan, and are really the rave down there. George (the guy in the hat) alternates lead with Tessie (the only girl in the group). Though the group are all Puerto Rican-born and Spanish-speaking, George sings only in English. Tessie sings in both Spanish and English. You can write to the Living End at Box 1601, San Juan, Puerto Rico, 00936, and stay tuned to 16 for more on this boss group.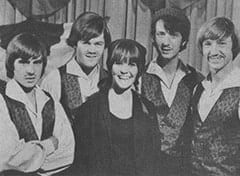 Speaking of groups, Screen Gems' newest starlet, Hillary Thompson, made friends with an interesting group when she recently visited their TV set in Hollywood. Can you guess who the group is behind those cute little moustaches? (You get a zero if you don't guess right on the first try.) . . . If you dig funny-funny people, don't miss Gail Parent and Kenny Solms' new Epic LP, I Were A High School Graduate. (Note: This rib-cracker is not recommended for adults.) . . . Lynne Randell (see Page 8) has a groovy back-up group called the Kinetics, whose average age is 16. Let's hope they'll soon be recording in America too!
If you groove behind the Blues Magoos' We Ain't Got Nothin' Yet, then you are really gonna flip for their Mercury LP, Psychedelic Lollipop . . . Also be sure to dig Terry Knight & The Pack's LP on Lucky 11. It's really flash.
Over and out.