With guest guru "beautiful" Bill Richardson of The Hard Times!
Hello there! It's me, Bill Richardson—and I'm the lover of the group. I dig soft music, candlelight, chicks with long hair and anything romantic. I'm lazy, I hate to work and I'd spend all my time at the beach if I could. I also love getting your letters so, if you have time to write to me or any of the other guys, write to us in care of World Pacific Records, 6920 Sunset Boulevard, Los Angeles, Calif. 90028. Tell us you're a 16er and you'll get an answer pronto. Now, let's move along and see what's shakin' with all the other cats on the scene.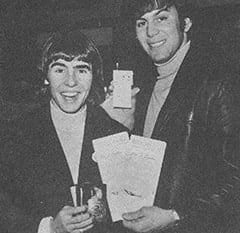 Dick Clark got a surprise twist when he started to present the Raiders with their gold LP (for Just Like Us). The riotous Raiders snatched the record away from Sir Richard and then turned around and presented it to him! . . . Hip-hip-hooray! Donovan is on the way to the States for a visit. Hope he stays a long, long time . . . Davy Jones is taking piano lessons in his spare (?) time. Dig the groovy shot 16's Gloria Stavers snapped of Davy with David Pearl, just as they left for their Bahamas' vacation. By the way, at this writing the Monkees have not settled on a movie script. Hope they do in time for a summer release. A friend of Davy Jones, Stuart Getz (he was one of "Fagins' gang" in Oliver!) is getting the starring role in Flipper next season. More on him later . . . Speaking of next season's TV, John Provost will star in the new NBC series, Maya.
Kurt Russell has been signed by Disney Productions to co-star in The One and Only Genuine Original Family Band . . . Mitch Ryder no longer travels with the Detroit Wheels. He now has his own ten-piece orchestra. His act is called The Mitch Ryder Show. They'll be touring the West Coast in June, so watch for them. Meanwhile, you can write to Mitch at 200 West 57th Street, Suite 306, New York City . . . Watch out for a cool new duo called the Boomer Boys (Later, the Lewis & Clarke Expedition). They are sponsored by the Monkees and will be on the Colgems label . . . Oh, yeah—before I sign of [sic]—Davy Jones is starting is very own record label. It's called, surprisingly enough, Davy Jones Records. We'll tell you more about that later too. Bye for now.