Davy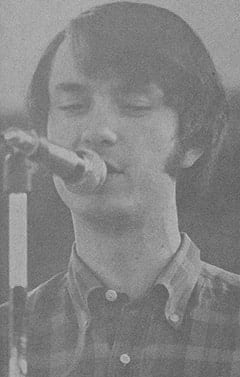 Everybody calls me the serious Monkee so I guess I should talk to you about serious things. First of all, let me tell you about my dressing room on the set of the Monkees, because to me, this is a serious place. I like to be alone here and rest between scenes and read the letters you send me. I read every one of my personal fan letters and I'm always going to. I think when someone writes you a letter, the least you can do is read it, even if you don't have time to answer every letter, and I'm sorry to say, I don't.
Well, my dressing room is equipped with red and white flashing lights. I like to collect old cigarette packages and stick them on my dressing room wall. They make groovy patterns and designs. I also like to frame my favorite letters from fans. Some of these I read over and over.
For those of you who didn't get to see our show on the road, I thought you might be interested in knowing how it was set up and what songs we did. Well, the first hour of the show consisted of our supporting acts: Jewel Akin, the Candy Store Prophets, and the Apollos. All of them did a fine job and we were proud to have them along.
After a 15 minute intermission we come on and sing 9 songs. 1. The Last Train to Clarksville; 2. She's So Far Out She's In; 3. You Just May Be The one; 4. I Want To Be Free; 5. Giant Step; 6. Papa Gene's Blues; 7. Sweet Young Thing; 8. Standing on the Corner; 9. Mary, Mary.
Then we all leave the stage one at a time. Davy goes up and plays the drums. Micky takes the hand mike and introduces Peter's banjo solo. Peter plays East Virginia Blues. Peter then introduces me and I do Can't Judge a Book. Then Davy sings Gonna Build a Mountain. Then I introduce Micky who does I've Got a Woman. Then we finish off the show with I'm a Believer and Stepping Stone.
For those of you who are interested, we'll be taking this show out on the road every chance we get so I hope you'll all be able to see it sometime.
Talk to you next month,
Mike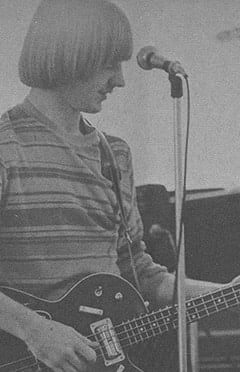 This is great, giving me a chance to talk. In fact I think I like to talk more than anything else. The rest of the boys have been kidding me since we got back from touring because they say I did all the talking at the press conferences. Maybe that's true. But when someone asks me a question I like to give them a detailed answer.
You've been writing me asking if I'm married. No, I'm not married. I'd like to get married someday, but I have no plans right now to do it. My girlfriend's name is Lea and we have great times together. She's a wonderful girl.
I just bought a new house and right now I'm having it decorated. I can't really tell you what it's going to be like when I'm finished because I keep changing my mind. I like wild, way-out colors, so it'll have a lot of those. As we go ahead with the decorating I'll keep you posted. One thing's for sure… it'll be a comfortable house. I love being comfortable.
My latest kick is playing the organ between scenes on the set. I have an organ crammed into my dressing room and I play every chance I get. My favorite things to practice are Bach preludes. You may have heard me playing the organ on "I'm a Believer."
I guess you could say that my real ambition is to play every instrument well. I already play bass, organ, banjo, and guitar. Now I'm learning the drums.
Well, that's about it for this month. I'll talk more next month.
Love,
Peter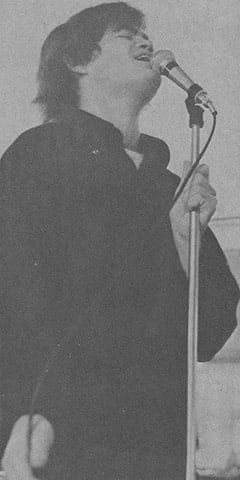 So many of you have asked me if I like being a Monkee that I think I should start off this column by saying YES YES YES. I also like being Micky Dolenz. All four of us agree on one thing. We want to remain people even though we're the Monkees. We're trying to sell four human beings, not just a group. So far I think we're getting the point across. I hope so.
My biggest thrill in life is being in front of people and making them happy. This is probably why I love the stage so much. To see people laugh and respond and applaud when you do an act is the greatest feeling there is. I want to be a showman all my life. The bug bit me early when I was Circus Boy, so now I hope things keep going well for the Monkees so I can stay around forever.
In my spare time I like to write script ideas for the Monkees. But show business doesn't take up all of my time. I also like girls. Right now I don't have a steady girlfriend. I really wouldn't have enough time to take her out the way we've been working.
It used to be that I had time to work with wire sculpture, photography, and study architecture. I guess you could call these my hobbies. NOW, when I get the chance, the things I like to do most is get out into the good old Southern California sunshine. If I could name one thing I missed most about home when we were on tour, it would have to be the sunshine, I really missed that sunshine.
One big thing I'm really looking forward to someday is building a formula 3 racing car. I like to buy car magazines and sort of day dream about the time when I'll have the chance to do this. Motors fascinate me, but not as much as people. So I guess I'm in the right business, thanks to all of you out there who watch the show.
Bye for now,
Micky
Magazine: Tiger Beat
Author: The Monkees
Editor: Ralph Benner
Published:
Volume: 2
Issue: 7
Publisher: New Asbury Ltd. Publishing Co.
Pages: 4–5