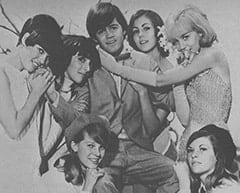 AND AWAY WE GO: With all the news from Hollywood and the international entertainment scene, that is. And what better way to start than with some of the best news we've heard yet!
BEATLES 4-EVER: In a recent letter to a Stateside friend, George Harrison's marvelous mum had this to say on the "Beatles Are Breaking Up" subject.
Said Mrs. H: "The Beatles will NEVER EVER break up. That is on the level!"
See what we meant by the best news we've heard yet? And it's news you can believe because we saw the letter ourselves! At this point, the Beatles' decision not to tour and/or perform in public still stands, but they're receiving some pretty fantastic offers and who knows, they just might change their minds.
Even if they do, we doubt they'll ever go back to spending a lot of time on the road. They just don't have the time to spend, not if they pursue careers separately as well as together. This is something they really want. It's also something they have earned, and therefore deserve.
Although the Beatles have been out of action recording-and-concert-wise since the completion of their '66 American tour, the foursome is still all around us. Their past hits are still being played by dee-jays all over the country (not to mention the world), and their music continues to become more and more popular with the adult world. For instance, in just one evening of telly-viewing, J.M. reported seeing a Ford commercial backed by an instrumental version of "Norwegian Wood," and hearing a similar version of "I Feel Fine" played as background music for a network station announcement.
SHEA STADIUM: on the evening of January 9, an hour film of the 1965 Beatle concert at Shea Stadium was telecast nationally. This was the program which millions of Americans had been requesting to see since it was aired in England over a year ago.
Except in isolated cases where the film was aired at a different hour, the first twelve minutes of the program were preempted by the close of the President's annual State Of The Union message.
TC has since heard from many Beatle fans who want to know what happened during the missed portion of the show, and who also want to know why Washington chose to schedule the speech in a time slot that coincided with one of the most eagerly-awaited programs in television history.
At your request, TS is looking into both matters. Look for the answers to both of these questions in the next issue.
DOWN UNDER: Robie Porter, Australia's top singing star, was here in Hollywood recently, and when it comes to talent, he's definitely here to stay. He got together with TS during his visit and we found him to be most diggable.
Robie (pronounced Robbie) is young (22), attractive (zow) and has a voice that's almost too good to be true. Besides, he's a ball. He's in New York now, and we're certain it won't be long before you have your chance to see what Australia sees in him. For a starter, take a look at the pic in this section of TS, (Double zow.)
SURPRISE SURPRISE: Remember last month when we told you that someone told us to expect a big surprise from Mitch Ryder soon? Well, at that time we nagged a lot in hopes of being let in on the news right then, but our wheedling failed to work. However, the news is now out, and in case you haven't heard it yet, here it is!
The Detroit Wheels will no longer be traveling with Mitch. Instead, Mitch has invested a fortune in setting up a ten-piece orchestra which will now back him for all concerts and personal appearances.
By orchestra, we don't necessarily mean violins. Mitch will now have a really-big ten-man sound behind him when he tours.
Mitch's manager says the new act (called "The Mitch Ryder Show" is more like a Broadway production. Special lighting and electronic systems have been designed, and Mitch's costumes are spectacular! (Not to mention expensive—he paid $3000 for three outfits!)
The new act debuted on January 20th at the University of Detroit, and we can hardly wait to see for ourselves what one of the top hit-makers in the world has come up with now!
HERMITSVILLE: Herman and Hermits arrived in America just before Christmas for their several-city holiday P.A. tour, and after a couple of days in New York, went on their merry way cross-country. (While they were in N.Y.C., 200 West 57th St. was the most popular building in town. The Hermit's fan club and publicity offices are located at this address, and Hermaniacs were camped all over the place.)
Unfortunately, their merry way didn't include a stop-over or concert on this coast, so we missed (and how) seeing them this time around. But we made them promise that at least one Hermit or member of the entourage would keep a special tour diary and send it to TS. So look for this exclusive thingy soon!
Next on the Hermit's list is a tour of the Orient and Australia. Then they begin filming their next movie, which is now titled "Mrs. Brown You've Got A Lovely Daughter." (Sounds familiar—ha!) Don't know whether they'll do the filming here or over-there, but we have our fingers securely crossed. If all goes as planned, they begin shooting in April.
BOOT CAMP: Rumor had it that Gary Lewis didn't have to go into the service after all. Well, if this was true, someone should have informed Gary. As of this writing, he's in boot camp and will "graduate" along about the time this issue of TS goes on sale. He'll be back home in Hollywood for a short while (where he'll do as much recording and as many appearances as possible) and then it's back to UncleSamsVille. As soon as he knows where he'll be doing his tour of duty, we'll print his Army address so you can send letters, etc.
PJ RETURNS: P.J. Proby was back in town not long ago, and while he was here he appeared on TV and in concert. Although we rather dug his old pony tail, P.J. is lookin' good with a new, much shorter hairstyle. Wish we could say the same for his act.
The gyrations of old have been replaced by worse. Namely, a series of awkward movements and uninspired hand motions. We normally wouldn't speak that way about an artist, but people have been pleading with P.J. for years to "stand still and sing." And until he starts listening and stops doing things that subtract from instead of add to his attraction as an entertainer, P.J. is never going to be the star he's worked long and hard to become.
Oh, well, at least one thing hasn't changed. That voice of his is still as magnificent as ever.
BYE BYE BIRDIE: Another Bird has flown the coop. Jeff Beck of the Yardbirds left the group and is now starting his own. Rumors of problems within the group have been wafting about for months, so some were surprised by the announcement of Jeff's departure and some weren't. At any rate, the break was made through mutual agreement, and although it's difficult to say whether all five remain the best of friends, they definitely did not part enemies.
News about Jeff's group when we have it. News about the movie Ringo's doing on his own, too. We hear that contracts are now being signed for his first film without the other three Be-attles.
HELLO ACTION: Hats off to ABC-TV for having the good sense to bring back "The Avengers." This unusually groovy British adventure series was a big hit with teenagers last year, and there was mucho muttering when it was taken off the air last fall. The cool Mrs. Peel and her pal returned to the airwaves in mid-season this time in color!
Wouldn't it be nice if NBC would follow suit and stop scheduling their great English show ("The Saint") at such unlikely hours. (Would you believe 1:00 a.m. in the Hollywood area?)
As for CBS, "Secret Agent" fans (and there are many of them) are still hoping for the return of Patrick McGoohan alias John Drake. In the meanwhile, they're contenting themselves by watching re-runs of the show which have been picked up by numerous local stations throughout the country.
HELP: Shortly after the holidays, "Help" and "Hard Day's Night" played on a double bill at a Hollywood theater, and the TS staff made several pilgrimages to have another look at that fabulous four. We've often wondered who holds the record for having seen these films the most times. If you know, let us know!
Did you happen to catch the televised film "Agent 8 ¾"? If so, did you at a certain point therein take a second look at a certain actor and yell "Clang!"? If so, join the crowd. (Said certain actor portrayed the role of "Clang," a rather nasty person from the Mystic East, in "Help.")
NEWS AND NOTES: Gene Pitney has decided to go into movie-making, and is in the process of producing his first film… Expect a visit from John's Children (the English recording group of "Smashed! Blocked!" fame) soon… Dick Chamberlain won't be making his Broadway debut after all. The show he was slated to star in ("Holly Golightly," a musical version of "Breakfast At Tiffany's") has been canceled… Good news for Peter McEnery fans (and there are many of those, too, after the success of "Donegal" and the TV showing of his old Hayley Mills co-starrer, "The Moonspinners"). Pete's back before the cameras again. This time he's starring as the fellow who did away with Rasputin, a rather nasty person from Russia.
HOWDJA LIKE THOSE APPLES? Each year the Hollywood Women's Press Club produces a basket of apples and passes out same [sic] to the four stars of their choice. Two of the apples are Golden, and these go to the twosome whom the club considers to be the most cooperative stars of the year. 1965's Goldies went to actor-comedian Bill Cosby ("I Spy") and actress-comedienne Phyllis Diller ("Pruitts Of Southhampton"). The poison apples—er—Sour Apples for the least cooperation of the year went to Elvis Presley and Natalie Wood. Hmmmmm.
Speaking of apples, look for David McCallum's "Three Bites Of The Apple" to be released shortly.
BOOT CAMP: Rumor had it that Gary Lewis didn't have to go into the service after all. Well, if this was true, someone should have informed Gary. As of this writing, he's in boot camp and will "graduate" along about the time this issue of TS goes on sale. He'll be back home in Hollywood for a short while (where he'll do as much recording and as many appearances as possible) and then it's back to UncleSamsVille. As soon as he knows where he'll be doing his tour of duty, we'll print his Army address so you can send letters, etc.
MONKEE-ING AROUND: As may have noticed, TS has made no mention of the fact that "The Monkees" may be taken off the air at the end of this season. It's true, there has been talk of this, because the show hasn't been given the highest ratings by the services. (Which makes us rather wonder about the services; because everyone and his brother has gone ape over this show.) We haven't mentioned it before because we're still trying to find out what can be done if this really does happen. Will let you know just as soon as we can come up with a plan.
THE LIVING END: seems like we're never out of news these days, but we are out of room. See you next month with more star goodies!