NEW BEATLE BABY!
DC5 SCHOULE!
WALKER BROTHER BREAK UP!
AND AWAY WE GO: With all the news from Hollywood and the international star scene, that is, so fasten your seat belts and leave us fly!
ON THE ROAD: It's really travelin' time for many of the top groups of the day. In addition to their scheduled appearances in England, and their Hollywood Bowl concert, The Monkees will appear at the Forest Hills Tennis Stadium (in New York) on July 14, 15, and 16. The Monkees will do one show nightly in the open-air arena which, in case you're interested, seats 14,000. Dick Clark Productions is sponsoring the performances, and each will be personally emceed by Dick himself. These three dates are just part of their big summer tour. See page 37 for the full schedule.
Back to the Monkees in England for a moment. TS now has a rep in London, and you can expect all kinds of exclusive Monkee goodies when they arrive there. Keep watching TS.
DAVE CLARK FIVE: The DC5 arrived in New York on June 16 and will be touring through July 23. They've already appeared in Boston, Maine, Chicago and North Dakota. Remaining dates on the tour are San Carlos, Calif.—June 26; San Juan, Puerto Rico—July 1; Atlantic City, N.J.—July 4; Wallingford, Conn.—July 9; Baltimore, Md.—July 10; Virginia Beach, Va.—July 15; Cleveland, Ohio—July 16; Camden, N.J.—July 23.
HERMAN'S HERMITS: Dick Clark Productions will also sponsor three summer concerts by Herman's Hermits. These groovy events will take place on July 21 in Oklahoma City, August 29 in Cleveland and September 3 in Pittsburgh. These are the only three dates we have info on, but look for the Hermits to make many more stops cross country.
By the way, the supporting act on the Hermits show will be guitar-smashing Who, of "Happy Jack" fame. (Great record.)
"Mrs. Brown You've Got A Lovely Daughter" began filming in May and is now completed, but can't say for sure when it'll be released. Soon, we hope. The group sings eight songs in the film, and plotwise, it's the story of a budding pop group who take their racing greyhound to London for the annual Greyhound derby.
ROLLING STONES: The Stones are having quite a few problems, to say the least. By the next issue, we'll know how things turned out, and we'd rather not go into the story until we know the ending. So, stay tuned.
BEATLE BITS: calling all Pauley fans! Guess what! Your true luv has shaved off his mustache. Ringo now has a tiny goatee (just under his lower lip). John and George sport heavy sideburns and mustaches Ringo and Maureen are expecting their second baby in late August. JM heard the good news in March and has been chomping her nails to keep from passing the good news on. The chomping worked—she wouldn't let us print it until the Starkeys made an official announcement . . . There's a strong rumor that George Harrison will accompany Ravi Shankar when the latter plays at the First Annual Pop Festival in Monterey, California in late June . . . August will be a strained month for Beatle fans. We're so used to it being our favorite time of the year, it isn't going to be easy to see the month go by without seeing the Beatles. To make things a bit easier, Beatle people in several cities are sponsoring rallies. (Some are mentioned in this month's "You Wrote" column.) Here's hoping others across the country will do it same.
A song on the new Beatle album was suggested by John Lennon's son. Anyway, the title was! Julian came home from school with a painting he'd done, and when his dad asked what the painting was all about, he replied: "Lucy in the sky with diamonds." Big John turned same into a song!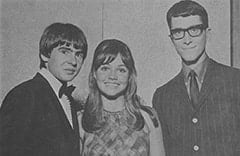 The Beatles are often seen enjoying the London nightlife at the city's various swinging clubs. Not long ago, John came out to see Donovan perform, and if any of you Lennon fans have been concerned about Our Leader being so thin and seeming so subdued, he now seems back to his own beautiful self again.
WALKER BROTHERS: The American threesome who became one of the all time big hits in England have decided to go their separate ways, and they aren't trying to palm any of those "we're all parting friends and buddies" stories off on their fans. There is dissension in the group, and we hope to have the details soon.
BRIEF GROUP THINGIES: Would you believe that the mustached drummer of the Yellow Balloon (whose first hit was the song of the same name) is actually Don Grady in disguise? Don is an actor as well as a musician and has been a regular on "My Three Sons" ever since the show began. There's a fascinating story behind the masquerade, but there's no room for us to tell it this month . . . The Grass Roots are running The Raiders a close second when it comes to adding to the list of ex-members. But, the group is back in operation, and better than ever, as proved by their "Let's Live For Today" hit.
It's really a gas the way a group called The Fifth Estate (their first was "Ding Dong The Witch Is Dead") got together. One of the members, Wads Wadhams (honest!) has this passion for parties. He gives parties for every known occasion including Bastille Day and often throws parties to celebrate terrific parties that he's just had. Since all the boys live in the same neighborhood, The Fifth Estate just naturally grew out of Wads' cellar.
The cool Buffalo Springfield (ray!!!) subbed for The Byrds when they were unable to play a local nitery engagement at the last minute. Reason for their cancellation was Jim McGuinn's cold, which turned into pneumonia. Be calm, Byrd birds. He's recovered!
Speaking of the Byrds, they composed and recorded their first title song for a movie. The film is the Tony Curtis starrer, "Don't Make Waves".
BEACH BOYS: Carl Wilson of the Beach Boys is not, no matter what you may have heard, a draft dodger. Carl is a conscientious objector, and there is a great deal of difference between the two. He doesn't believe in war, period, violence being against his personal and religious beliefs. Late in June, Carl's "military future" will be decided. In the past, many conscientious objectors have been given desk jobs or been trained as medics, so they could serve their term in the service without having to actively participate in violence. It's hard to predict what will happen in Carl's case, so we won't. We will, however, hope for the best for him.
AROUND TOWN: Dino Martin Jr., who is getting so handsome it's painful, will probably make a movie on his own this summer. Don't take this news as any kind of evidence that DD&B are heading for a break-up. There's been no news and not even any rumors about that subject, so be calm . . . Many Dylan fans turned up their noses when Bob decided to electrify his act by adding electric guitars and producing a folk-rock sound. Before this, Dylan had been strictly folk, accompanied only by guitar and/or harmonica. Well, another artist has decided to do the same thing. He's not as well known as Dylan, but watch him because he soon may be. For the last five years, fans have been following him all over California just to hear him sing. (Your editor is no exception. She first became a follower when she heard him sing at the Prison Of Socrates, a beach coffee house.) All of us wish him all the luck in the world. He already has all the talent. His name is Tim Morgon. Remember it.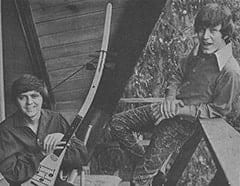 Get set for a new twosome. Well, new really isn't the right word because Tommy Boyce and Bobby Hart have been around for some time, and have written over thirty (count 'em) hit records for other artists. For instance, they've penned many of the Monkees' hits, including their first one, "Last Train To Clarksville". Tommy and Bobby have now decided to sing some of their own material and we can hardly wait for them to hurry up and get started!
Dino isn't the only pop star who'll be making a film this summer. So will Tommy Roe. The script is being finalized right now, and shooting will probably begin shortly. You'll love it. It's about a pop star who's on a tour and when the tour bus breaks down he . . . whoops, there we go, giving things away again.
Twiggy's visit to our town was quite spectacular. The young (17) English model who is thin as an ironing board particularly dug Disneyland. She came to Hollywood with her manager, Justin (who is a dead ringer for Hollywood DJ Don Steele), and got off her fair share of Cockney quips to the press.
Twiggy's visit inspired songwriter Gladys Shelley to write a tune titled, you guessed it, "Twiggy"! It's been recorded by Steve Clayton on the Spiral label.
LAST MINUTE THOUGHTS: Donovan has started work on a 14-week BBC special in England. For the weekly series, Donovan will set the music poems by leading writers and will also sing several of his compositions . . . Station WFUN in Miami is sending special half-hour tapes to servicemen in Viet Nam. The tapes include personal messages from friends and family of servicemen plus music . . . Colonel Tom Parker is negotiating to take over the management of Tom Jones . . . Epic records has signed The Hollies to an exclusive recording contract . . . Will Brian Epstein's new group, the Bee Gees, be a hit? . . . Paul Revere & The Raiders have received their third gold record in three months. Within this short period of time, three of their albums have been certified as goldies . . . Don't miss the Soul Crusade of The Mandala when this group stops in your city. Wow! . . . Harpers Bizarre were once known as The Tikis . . . Mitch Ryder was once offered a job as a cartoonist at Walt Disney studios . . . Dave Clark owns six corporations, flies the DC5 to all engagements in his own plane, and owns the film rights to three books and two original scripts.
THE LIVING END: Must go. Back next issue with more news and goodies.
Magazine: Teen Screen
Editor: Janey Milstead
Published:
Volume: 9
Issue: 7
Publisher: Continental Communications, Inc.
Pages: 10–14, 16