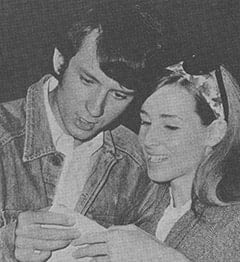 DRAKE LEVIN is back among us and is very busy doing a lot of super-groovy things. His first single (on London) is one of THE very best records I've heard in ages, and I know you will love it. Please go out and BUY it. It'll be one of the greatest favors you've ever done yourself. It's called Childhood's End (On The Road To Mexico). Flip forward a couple of pages and you'll find its beautiful lyrics in Sing-Along. Drake is letting his hair grow, has just moved into a nine-room house in North Hollywood (complete with three log cabins and a weeping willow in the backyard, did five fill-in days for Fang (who was laid up with a sore throat) on the Raiders' last tour, is cutting Don & The Good Times, and is now pal-ing around with Harpo. Welcome back, babe! Any of you 16-ers who love Drake may express same by writing to him at 9000 Sunset Blvd., Hollywood, Calif.
Tony Thomas looked super-fizzy when he recently posed with sisters Terry & Marlo, and with mom and dad, at a party in their Hollywood home . . . The Avengers will return to ABC-TV on Fridays from 10 to 11 P.M. as of January 20th . . . Mama Cass just bought an Aston-Martin like James Bond's. Call her "Speedy Galore". Denny bought an outasite home h-i-g-h in the Hollywood Hills. Call him "Lord" (of the manor, that is) . . . Noel Harrison's new London hit, In An Old Dusty Room, was written by beautiful Bob Lind.
Yes, sweetie-kins, Monkee Mike Nesmith is married and he loves, loves, LOVES his very sweet and pretty wife, Phyllis. For details, see Pages 8 & 9 . . . Troy Donahue got married on October 22 to an English actress named Valerie Allen, in Dublin, Ireland . . . Hotels in the Far East are already turning down Robert Vaughn and David McCallum's requests for rooms while they are out there during the Christmas holidays. Same old problem—overly-enthusiastic fans! . . . Patty Duke makes her first TV appearance since her series went off when she guests in a segment of The Virginian . . . James Darren bought screen rights to The Orchid, so you'll see him in the flicks soon. Good-o . . . Walt Disney has signed John Davidson for two more films. John will do a one-hour TV spec this coming spring on ABC and will have his own show the following fall. Welcome back to you too, John!