Have a question about your favorite star? If so, why not send it to us, and we'll answer it for you. Address your mail to: TB Q&A, TIGER BEAT 1086 Teaneck Road, Teaneck, N.J. 07666.
Q. Is Kirk Cameron leaving Growing Pains to concentrate on movies?
A. The hazel-eyed star is not leaving his high-rated series, but he is branching out into films. He just wrapped up Like Father, Like Son, which also stars Dudley Moore. In this movie, Kirk and Dudley play a father and son who switch bodies—which results in some comical situations.
Q. Could you please give me some information on my favorite music star, Jon Bon Jovi? When is his birthday? Does he have any brothers or sisters? How tall is he?
A. Jon was born on March 2, 1963. He has two younger brothers, Tony and Matt, and he is 5'10" tall.
Q. Can you please, please tell me about about any upcoming projects that Tom Cruise or Matthew Broderick have planned.
A. Tom is currently working on Rainman with Dustin Hoffman, in which they play brothers. Matthew is busy with the film version of Neil Simon's acclaimed Broadway play, Biloxi Blues.
Q. Are Michael J. Fox and Helen Slater dating each other?
A. Although it was rumored that the couple were an item during the filming of The Secret of My Success last summer, Michael insists that they were just good friends. Either way, it seems like the stars have gone their separate ways.
Q. I think Kim Wilde is a great singer. Do you have an address for her?
A. Write to: Kim Wilde, c/o MCA Records, 445 Park Avenue, New York, NY 10022.
Q. I am a Dire Straits fan and I was wondering where I could write to them.
A. Write to: Dire Straits, c/o Warner Bros., Records, 3300 Warner Blvd., Burbank, CA 91510.
Q. What color are C. Thomas Howell's eyes?
A. The star of A Tiger's Tale, Tommy has hazel eyes.
Q. When is Back to the Future 2 coming out?
A. The sequel, tentatively titled Back to the Future Again, is in the planning stages, but it could be a while before the cameras start rolling. Michael J. Fox is busy filming Bright Lights, Big City and doing his Family Ties series. But be patient, "Marty Mcfly" will return!
Q. Is it true that Mackenzie Astin and Chad Allen are brothers? If so, whose last name is the real one?
A. No, the stars of The Facts of Life and Our House are not brothers. Mackenzie does have a brother named Sean who appeared in the Goonies and Rites of Summer.
Q. After seeing Mannequin, I fell in love with Andrew McCarthy. Did he appear in any other films?
A. Andrew has a strong list of film credits behind him. He has appeared in Class, Heaven Help Us, St. Elmo's Fire and Pretty In Pink.
Q. I am a big fan of Sylvester Stallone. What projects is he working on?
A. The muscular star should start filming the long-delayed Rambo III in the fall. There's also talk of a possible sequel to the disappointing Cobra, which would be done as a more realistic crime drama. And don't count out another Rocky sequel, although the star has reportedly given up his boxing gloves for good. But since Rocky IV was the most successful one yet, he might just reconsider.
Q. I am a big fan of Corey Feldman. Does he have any new movies coming out?
A. The talented star of The Goonies and Stand By Me will be starring in The Lost Boys, which opens next month. This vampire comedy/adventure looks like a real winner! Also, Corey tells us that the go ahead has been given to the long-awaited Goonies sequel, which we can expect in the summer of '88.
Q. I am a big fan of Michael Beihn. Is the gorgeous actor working on any new projects?
A. Michael, who hit it big with the science fiction thrillers The Terminator and Aliens, is starring in a court drama called Rampage, which will be released soon.
Q. I love the TV show Alf. Will it be back next season?
A. Have no fear, our friend from the planet Melmac will be back in the fall. The series was one of the few new hits of last season and a movie version of Alf's pre-TV adventures is planned.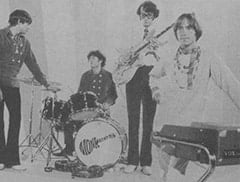 Q. I heard that the Monkees made a movie years ago and that they plan on doing another. Is this true?
A. The Monkees starred in Head in 1968, which is now available on videocassette. It is rumored that they will star in an all-new movie in the not-too-distant future.
Q. Whatever happened to Henry Winkler after he left Happy Days?
A. Henry, who had millions of fans as "The Fonz" on the long-running series, is currently producing films and TV shows. He co-produced Young Sherlock Holmes and the short-lived TV series Mr. Sunshine.