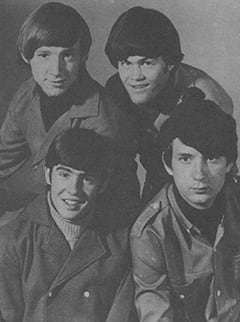 In the preface to his assiduously researched Monkeemania (St. Martin's Press), author Glenn A. Baker means it when he says, "The Monkees are destined to be regarded forever as rock's first great embarrassment." (That should come as a big relief to Pat Boone.) He goes on: "The rise of the Pre-fab Four coincided with rock's desperate desire to cloak itself with the trappings of respectability, credibility and irreproachable heritage." (For one thing, that explains how the Moody Blues went from the heights of "Go Now" to the dregs of "Nights In White Satin.")
Their current resurgence in popularity notwithstanding, the Monkees remain one of the most maligned and despised groups in all of rock 'n' roll. That would've come as big news to me back in the autumn of '66 when I was just another mixed-up teenager bopping like crazy to the sound of "I'm A Believer." My friends and I didn't know the Monkees were manufactured, and that they (horrors!) didn't play their own instruments. All we knew was we loved their music, loved hearing it all day on the radio like we loved hearing Motown or the Beatles or the Beach Boys or a hundred other great pop sounds. It was what was in the grooves that mattered to us.
Of course, within a few short years, we grew up and became somewhat "enlightened." By the time I hit college, my Monkees albums were gathering dust in the back of a closet, while things like Aoxomoxoa by the Grateful Dead had a prominent place on my shelf. We're talking circa 1970 here, when AM was a dirty word and allowing a song by the Osmonds to come across your airwaves was grounds for eternal banishment to the Land of the Unhip.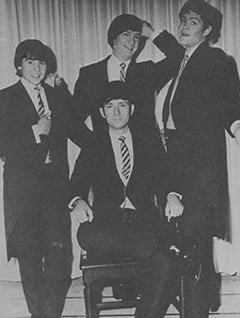 Fortunately for me, I went through this idiotic phase quite rapidly, having made the startling revelation that "hip" was in the eye of the beholder. AM radio was a lot more fun to have around than stuffy old FM. I knew a lot of it was trash, but it still felt good. Then, driving to school one morning, a blast from the past knocked me right across the seat: "What number is this, Chip?" "7A!" "…Don't get excited man. It's 'cause I'm short, I know." And straight up to heaven we went. Jesus, these guys still sound great, I thought, as I put the pedal to the metal and got pulled over for speeding. Shortly thereafter, I made one of the best decisions of my life: I junked my Dead albums and several other allegedly hip records in my collection, loving every minute of it. To this day, only a loaded revolver pressed against the base of my skull could get me to listen to Anthem Of The Sun.
Fast forward to the present. The Monkees, thanks to MTV's saturation airplay of their old TV series, are popular again, selling out concerts and having a fair-sized hit with "That Was Then, This Is Now." And—as we speak—"Daydream Believer" is on the charts once again. Rhino Records, as always America's most enterprising reissue label and unafraid to sneer in the face of "hip," have re-released every single one of the Monkees albums (originally on Colgems) with the original LP covers and everything. Which brings me to the reason why I'm here. I intend to forge ahead and go straight on to review every one of those records.
Having been the proud purchaser of their first four albums (the cream of the Monkees' crop), I knew the pure pop pleasures that awaited me as I listened to them for the first time in well over 15 years. (My original copies had been lost to me ages ago.) So everything after the fourth album, excluding three or four cuts, was pretty much of a mystery to me. One day while some friends were over, I began playing all nine of them in chronological order for a marathon listening session. Unfortunately, these friends were still of the antiquated opinion that Monkees music wasn't "cool." They sympathized over what a rotten assignment I'd undertaken. I laughed, threw them out, and spent the rest of my Sunday hanging out with Davy, Mike, Peter and Micky.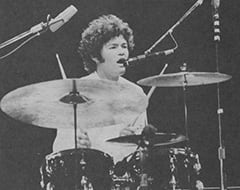 The Monkees—And so it begins. For their first two albums, the Monkees had very little to say about the content. As far as the songs went, the selections were initially supervised by Don Kirshner and everything was published by Screen Gems/Columbia (which continued to be the case long after Kirshner was out of the picture). This meant the Monkees had access to some of the best songwriting to come out of New York's Brill Building in its heyday.
As far as the playing of the songs went, the Monkees were there to sing 'em—period. This didn't particularly phase Micky Dolenz and Davy Jones, who were actors first and musicians later, but it galled the hell out of Mike Nesmith and Peter Tork, who were just the opposite. Once again, Kirshner had crack session players at his disposal, and he didn't hesitate to use them. Much has been made of this "scandal." Meanwhile, the Byrds had all kinds of help on. "Mr. Tambourine Man," the latter-day Beatles freely used uncredited musicians, and you're crazy if you think Mick Jagger swallowed that sax on "Brown Sugar." Dishonest, yes; disreputable, no way.
Opening with the reined-in raucousness of "(Theme From) The Monkees," they were off and running. Delivered with mucho gusto by Micky, it was a goodtime, no frills announcement that these boys had come for fun. That's definitely a Dave Clark disciple on those drums. Penned by Tommy Boyce and Bobby Hart, who contributed a lot of the material for this debut.
Such as? Well, there was "This Just Doesn't Seem To Be My Day," a cavalier approach to bad luck; "Let's Dance On," along with "No Time," as close as the Monkees ever came to a rave-up; "Gonna Buy Me A Dog," dizball fooling around which manifested itself on subsequent LPs, and a little "Paperback Writer" rip called "Last Train To Clarksville," which gave them their first number one. The pent-up excitement on the bridge is wonderful, and a touch of it shows up on "Tomorrow's Gonna Be Another Day."
For my money, Micky was always the liveliest singer, but Mike and Davy always had their moments too. (Pete rarely took the lead, and if he did, it was short-lived.) Davy was a connoisseur of sincere schmaltz; thousands of petticoats were shredded as he fought back the tears on "I Wanna Be Free" and swore undying fidelity on "I'll Be True To You."
Besides "Clarksville" and "Theme," there were two other standouts. "Saturday's Child" (written by David "Bread" Gates!) is a real rouser, running anxiously through the days/loves of the week and engulfing you with each chorus. And Goffin/King's "Take A Giant Step" is pyschedelic [sic] pop perfection, complete with swirling crescendos and fifth dimension production from Boyce/Hart. Put that in your pipe and smoke it, 'Frisco.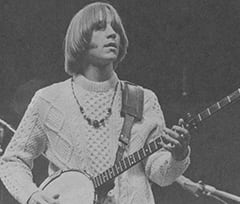 More Of The Monkees—An absolute winner. Shoot "Your Auntie Grizelda" and put "The Day We Fall In Love" out of its misery, and you've really got something. "She" makes for a killer intro, the sort of garage/punk drama that Shadows of Knight or the Mysterians would've killed for. Micky leans into the angst aspect for all it's worth, and there's a tremendous use of stop/start dynamics here. Hey! And speaking of punk, "(I'm Not Your) Steppin' Stone" tells that girl off with a vengeance that even the Sex Pistols couldn't beat.
Also present are four of my favorite love songs: Davy is bursting with joy on "When Love Comes Knockin.'" Goffin/King's sublime "Sometime In The Morning" represents that songwriting team's finest work with the group, featuring an endlessly optimistic Micky falling head over heels in love. Last but not least—Neil Diamond, ladies and gentlemen! That's right! The same Neil, who stopped sending flowers to Streisand and induced nationwide vomiting, was once a superb pop craftsman. "(Look Out) Here Comes Tomorrow" has Davy in a heated quandary; does he give his love to Mary or Sandra? Hundreds of girls with those names resolved this on the way home from school. Neil also gave the Monkees "I'm A Believer," their biggest hit and their second number one. The Monkees still weren't holding instruments, but their vocal interplay was excellent. On "Believer," it was merely peerless. (Diamond later came up with another sureshot called "A Little Bit Me, A Little Bit You" that echoed his own "Cherry Cherry." and only surfaced on Greatest Hits compilations.)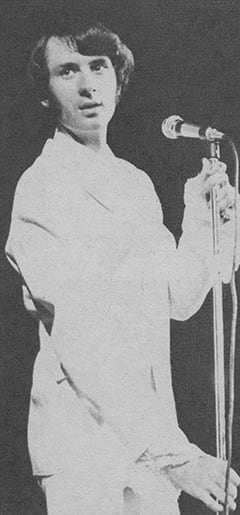 Headquarters—Singing and playing for the first time—and with a new producer (Chip Douglas)—this is known as the first rock LP to hit #1 without a hit single. That mystifies me because I hear at least half a dozen hits on this record.
Mike really comes into his own here, ripping into "You Told Me" with some spirited admonishments. His two originals are his strongest yet—"Sunny Girlfriend" puts in the country without losing the rock, and "You Just May Be The One" is a serious wailer that has the band giving their all in two minutes flat. Burn it up, boys.
The guys really hit the mark on "Shades Of Grey," as they poignantly confront lives in turmoil. The atmosphere of melancholia, punctuated by a quietly weeping steel guitar, is quite powerful. "For Pete's Sake" (which a lot of people like me always call "In This Generation") could've been a hippie anthem if the hippies had stopped rattling their love beads long enough to listen to an exuberant pop song that made statements like "We were born to love one another" and "We gotta be free." And I love the heartache reality of "Forget That Girl," with its brilliantly accelerated falsetto coda and its simple but staggering declaration of "She's in love with him, my friend." This, along with More, is their best.
Pisces, Aquarius, Capricorn, & Jones Ltd.—A few notches below More and Headquarters, but still formidable. Nesmith outdoes himself on the intensely pressing "What Am I Doing Hangin' 'Round?" It's worthy of the latter-day Byrds. Then he turns around and listens to his heart break on the wrenchingly understated "Don't Call On Me."
A weak opening ("Salesman" is nothing but a "Taxman" rewrite) and a clumsy finish ("Star Collector") bring diminishing returns. But the incredibly urgent "Words" (dreamy on the verses, fierce on the choruses, with Micky and Peter teaming up), Davy's warm emoting on "Hard To Believe" and Harry Nilsson's disturbingly gloomy "Cuddly Toy" (they make it sound lighthearted as hell, a diabolically masterful stroke on their part) work wonders. You also get "Pleasant Valley Sunday," that nasty suburban swipe with the end-of-the-world finale that swallows you whole.

The Birds, The Bees, & The Monkees—Parting company with Chip Douglas (a big mistake), their first self-produced effort is quite a letdown. "Dream World," packed with strings and things, has an overanxious Davy pleading away, but "I'll Be Back Up On My Feet" just seems like wishful thinking. "Valleri," their final Top 10 hit, simply pushes too hard with obnoxious horns and flamenco guitar.
There is one certified classic contained herein. "Daydream Believer," the third and final Monkee hit to go to the top, is sheer perfection. The horns and strings swell up. Davy clicks his heels and soars. Peter's piano lick is magic. And the whole thing is airborne. Don't ask me what it all means. I just know it gives me the greatest feeling whenever I hear "Cheer up, sleepy Jean…" Produced by Chip Douglas and written by John Stewart, who was a flamin' folkie!
Historical note: The closer, "Zor And Zam" features Dolenz doing Grace Slick, and may have been an influence on Jefferson Airplane's "Lather" (Grace'll die when she reads this).
Head—This motion picture soundtrack is every bit as puzzling as the movie that spawned it. Although it includes both "Circle Sky" and "Porpoise Song," it relies a little too much on filler from the movie. Not recommended.
Instant Replay—And then there were three. Exit Peter Tork. I don't know who Brendan Cahill is, but he's one miserable music coordinator. "Shorty Blackwell" is an unlistenable abomination. This is the Monkees as pretentious artistes saddled with hack material, though a pitiful "The Girl I Left Behind" is passable.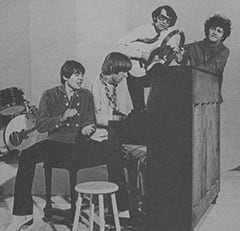 The Monkees Present—They're marking time here, nothing else. Even the Boyce-Hart stuff sounds washed up. "Listen To The Band" is barely a last gasp.
Changes—Changes, and then some. We're down to Micky and Davy, not exactly a dymanic [sic] duo at this point. Time to throw in the towel. And so they did.
Over the years, there have been various Monkees greatest hits compilations. Arista's latest Then & Now… The Best Of The Monkees, is a solidly enjoyable sampler. It contains three newly recorded tracks by Micky and Peter, the best of which is the captivating "Anytime, Anyplace, Anywhere." Arista has also released two volumes of The Monkees' Greatest Hits. The first contains the biggest hits, as well as "Shades Of Grey" and "Listen To The Band."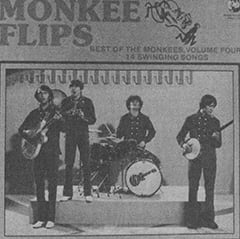 In addition to reissuing all the original LPs, Rhino has also released two compilations: Monkee Flips and Monkee Business. The former includes lesser-known album tracks from Headquarters, Instant Replay, Present, Pisces, Capricorn… and The Birds, The Bees…, as well as "Gonna Buy Me A Dog." Some of this stuff makes more sense here than it does in its original form. Monkee Business comes on a beautiful picture disc, and features outtakes, non-LP singles and previously unreleased material, including the long versions of "Goin' Down" (the B-side of "Daydream Believer") and "Porpoise Song" (from Head), "D.W. Washburn" (a single the Coasters released at the same time), unreleased compositions by Neil Diamond and Chip Douglas, not to mention the Italian version of "(Theme from) The Monkees."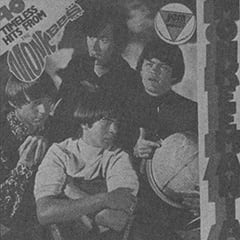 The best of all Monkee anthologies is Monkeemania, 40 cuts enthusiastically compiled by the same gentleman who brought you the book of the same name. It's an Australian import, and well worth seeking out. It proves that the Monkees in their prime were quite delightful. A lot of you already know that; the rest of you take a giant step outside your closed minds, and get with it!