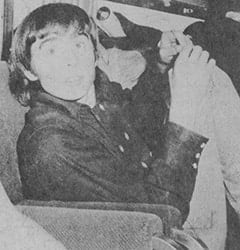 Actor, singer, and author Davy Jones is glad to be back in Monkee business.
The incredible comeback of The Monkees has put Davy Jones back in the spotlight and he's loving every minute of it! You see, though the five foot, three inch singer is quite comfortable to be back onstage listening to the roar of screaming fans, it wasn't so long ago that Davy had all but given up on his music career.
After The Monkees' breakup in 1969, Davy took the next logical step and launched a solo career. Things didn't work out exactly as he planned, though. Davy released a self-entitled album that went virtually unnoticed beside the moderate success of the single "Rainy Jane."
"Bell's (the record company) approach was a big mistake. I didn't have any say in it," the Monkee recalls. "They chose the producer and much of the material. I think they should have put me with someone else who would try to build and help my career, to form a different thing. Instead it was going on with the same sort of image that made me into the TV show."
Also hurting Davy's chances at the time were the new stars that loomed on the horizon. "Just about the time I made the album, a young fellow named David Cassidy came out on TV," Davy explains. "I think maybe the record company's main concern was for the new kid in town, Cassidy. He sort of looked the same and had the same hairstyle. He did the whole thing like it was out of a mold."
With his music career less-than-booming, Davy returned to his first love, acting. "I love performing on stage in theater. I love doing Oliver Twist. I think it is something that can last forever," Davy said several years back.
Indeed it might. Davy has been playing the part of the Artful Dodger in various theater productions for nearly 20 years. He has also appeared in such productions as The Boyfriend, The Point, and Godspell. But it looks like his stage career will be put on hold for awhile as Davy indulges in a second wave of Monkeemania.
The record sales and fan response that have greeted The Monkees reunion has made Davy very happy. "We're finding that people are coming to our shows who haven't been to concerts in 10 years," he says. His autobiography, They Made A Monkee Out of Me, has just come. out, and The Monkees are gearing up for another tour, album, and possibly a movie.
Currently making his home in Manchester, England, with his wife Anita, Davy Jones will be dabbling in Monkee Business for a long time to come.