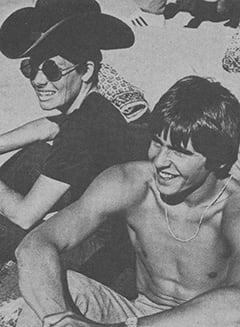 Linda Haines hung the phone up with a slight shrug. She didn't really want to go to a party for the Monkees. She didn't know them! But Fate had other plans for Linda. Namely, to make her Mrs. David Jones! Here, in Linda's own words, is the exclusive story of how she met, fell in love with, and married Mr. David Jones.
I had been invited to a party celebrating the Monkee's first concert performance. My Hawaiian girlfriend came by for me about 10:00 p.m. and I soon found myself at a Monkee party, with no Monkees in sight. They hadn't arrived yet! We waited a couple of hours and still the Monkees didn't show up! By, now I was getting awfully bored and tired of waiting. In fact, I was about to leave!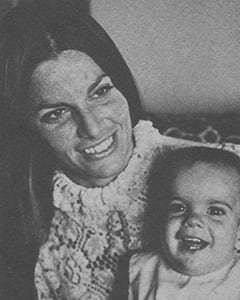 Suddenly there was a big commotion and a rush to the door. They had arrived! But, wow! Not only the Monkees, but reporters, photographers, and dozens of publicity people.
I was soon introduced to Micky, Peter, Mike and David. I was very impressed! We all listened to music and then to a Russian poet who could hardly speak any English! It turned out to be a very funny party!
It was past midnight now, and the party had broken up. Most of the guests were gone. Their first concert had the Monkees so excited they weren't tired. Everyone just wanted to sit around talking and maybe eat something.
There aren't many places open so late at night, but someone finally located a little stand and came back with hamburgers and french fries.
We sat around until early morning talking, and guess what? I discovered the Monkees were cool guys! Something you probably knew already! Then David Jones' friend David Pearl stopped by to take them back to the hotel. Just as they were leaving he asked me if I wanted to go sailing with them tomorrow! Did I ever!
As it turned out, the day was terrible for sailing. Everyone was disappointed because no other plans had been made. Finally, I suggested we take a drive around the island and they thought it was a groovy idea!
So, all the Monkees, David Pearl, my girlfriend and I spent the day driving around. I never laughed so hard in my life. We had such a gay and comical time. Micky and David Jones were so funny, I couldn't stop laughing. They would do all sorts of funny things, like jumping out of the car at a stop sign and pretending to be hitch-hikers! They acted just like they were on TV!
That night we all went to dinner and then to a radio station the next day. It was a ball being with them! But, too soon good times come to an end. I said goodbye to them at their hotel and when they left for Los Angeles that afternoon, I wondered if I would ever hear from any of them again!
Imagine my surprise when a few days later, I got a telephone call from David Pearl. He just wanted to know how I was! It was so sweet and considerate of him.
California here I come

Permalink
The months rolled on and occasionally David Pearl would call me up and let me know what was happening. Sometimes one of the Monkees would say a few words to me.
My current school term was over now, and I decided to strike out on my own—by going to Los Angeles. Of course my parents weren't too happy about it, but I wanted to leave the security of a college campus and make my start in life, however difficult.
I figured I could get into the fashion field easily enough. I had a book with pictures of myself modeling and some references by people I had known in the fashion industry in Hawaii.
I soon found a cute little apartment in Los Angeles and secured a part-time job with a fashion designer, showing clothing to buyers. During this time David Pearl, who had mysteriously found out I was in town, called every week to say hi. Soon we started dating, not seriously, but just casually.
Our dates usually took us over to David Jones' house. I would watch TV and they would play pool. Sometimes I would make sandwiches and we'd all take a break and have some refreshments. I thought David Jones was a neat guy. He never complained about all the people who were constantly in his house, and he never seemed to mind answering the door bell whenever someone rang—which was often! He was friendly to everyone!
Still best friends

Permalink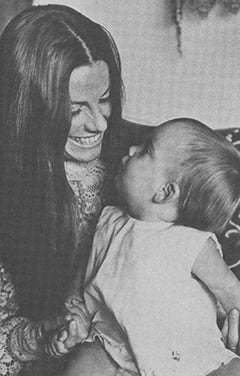 Gradually, David and I stopped dating. He was always busy working and he was interested in quite a few different girls. He wasn't ready to settle down with just one girl yet. So, I started dating other guys, though David and I remained best of friends.
Meanwhile, I discovered that modeling wasn't as easy as I had thought to break into. It's a very competitive field. I wasn't exactly sure that it was what I wanted since I was more interested in designing clothes than in wearing them! I decided to take it easy for a while, and let things work themselves out.
Every so often David Pearl would drop by to see me. He would invite me down to the Monkees set to watch the filming. The Monkees always treated me great even though they were busy. They would take a couple of minutes to stop and chat. I never felt in the way, but more like one of the family! And what a groovy family the Monkees were!
David Jones had never asked me out before because he considered me David Pearl's steady. But I guess he noticed after a while that we dated others and were just good friends. My two Davids were very close and before David Jones asked me out he checked with David Pearl to see if it was okay! He didn't want to step on anyones toes!
Well, one evening David Jones asked me out—to see "Bonnie & Clyde." It was so unexpected. I was wearing levis and an old tee-shirt when he dropped by one night after work. He kept apologizing for not calling me ahead of time. I told him not to worry, it was alright.
We went to the show and had a marvelous time. Afterwards, we went to the park and horsed around. It wasn't like a date at all, at least not like the kind I was accustomed to. It was different, so easy-going, and I loved it!
After David took me home, he kissed me on the cheek and we said goodnight.

A few nights later the telehpone [sic] rang. It was David, and here I was sitting under a hair dryer! I told him it was a good thing he called first this time because I looked terrible! You know what he said? "Impossible!" And all alone there in my apartment, I blushed a deep pink.
We spent the evening in an icecream parlor talking and getting to know each other better. We must have eaten at least three banana splits each!
After that night David and I went out regularly, but always on fun-type dates. Neither of us thought of getting serious. It just happened, the way Love does.
I think the first time I realized I was beginning to love David was the night we went to a party for Donovan. David was so gentlemanly and so polite (as he always is). He made me feel completely at ease though I didn't know anyone there! It was a groovy evening and that night when he took me home, David kissed me gently on the lips. It was beautiful, and so I kissed him back!
In Linda's own words the true story of how, when and where she and David were married. Plus more color pics that you can't miss! All in Feb. TIGER BEAT on sale Jan. 13!