TORK'S NEW LIFE! MONKEES' CONCERT TOUR! BOBBY SHERMAN'S MOVIE!
ABC-TV's Mod Squad, Here Come The Brides, Land Of The Giants and It Takes A Thief have definitely been renewed for the '69–'70 season . . . Hope you didn't miss the COWSILLS—wigs and all—doing their smash-hit Hair in the NBC-TV special The Wonderful World Of Pizazz . . . ABC-TV is coming up with a great new winner for us next season. Look for The Music Scene, featuring all of the artists who have hit records on the pop, R&B and C&W charts. BOBBY SHERMAN will be a semi-regular in this show . . . Wanna make DESI blush? Ask him who RICKI FARBER is! . . . In spite of what OLIVIA "JULIET" HUSSEY says about how much she loves handsome PAUL RYAN, she was definitely seen around London town recently dating our one and only intrepid DINO MARTIN, JR. . . . BROWNING BRYANT was so good on the Kraft Music Hall (hope you caught that cute scene he did with SUSIE COWSILL) that WAYNE NEWTON asked him to come back for another appearance.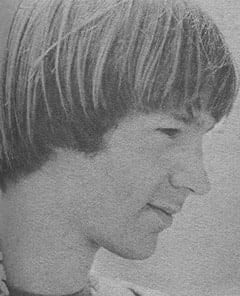 As was predicted in 16 and 16 SPEC early this year, PETER TORK broke his working ties with the MONKEES (but they are still very close friends). PETER feels happier doing his own thing. His first solo gig was speaking and presenting a film he made to The Young Presidents Organization's annual seminar in Aspen, Colorado. PETER successfully helped these young corporation presidents to bridge the generation gap. Of course, PETER will be recording on his own, but he still hasn't decided whether his singles and LPs will be on the SGC or RCA labels. We'll let ya know as soon as he decides. Recently, he fell by MICKY and SAMMY's house for a four-hour jam session and he reports that AMI BLUEBELL is the cutest thing he's ever seen. PETER is also working on his own concert act, and when he goes on the road he will be presented in a one-man multi-media show. PETER hasn't decided whether to keep his beard-sideburns-moustache, so you can expect anything in that department!
SAJID has taped his TV special called Sajid, featuring HARPERS BIZARRE and young songstress SUSAN BARRETT—and it should be on the air any day now. In it, SAJ plays host, dances, sings, and even does an Indian tabla drum solo! He's really beautiful and Sajid is a don't miss . . . Speaking of dreams, ELVIS PRESLEY keeps getting better all the time. Don't miss him in Charro!—'nuf said. Unfortunately, after Charro! ELVIS goes back to those nice but antiquated singing-dancing-dumbo-type flicks. Why can't COL. PARKER see that, aside from being a great singer and a great entertainer, ELVIS is potentially one of the greatest actors to come along since MARLON BRANDO? Anyway, after Charro! you'll see him in MGM's The Trouble With Girls (release date July or August) and then Universal's Change Of Habit, with MARY TYLER MOORE. ELVIS has also signed a contract to sing at Las Vegas International Hotel (he'll follow BARBRA STREISAND there) for $125,000 a week! To warm up to his new commitment, ELVIS recently paid a surprise visit to Vegas, where he applauded JEANNIE C. RILEY at her club opening and then visited her for a friendly chat in her dressing room. ELVIS' pretty wife "PRISS" is taking dancing and acting lessons—and rumor is that ELVIS doesn't approve . . . Two thousand fans plus friend CYNTHIA LENNON showed up for BEE GEE MAURICE GIBB and LULU's wedding. It was one of CYNTHIA's first public appearances since her divorce from JOHN . . . Here's a pretty pic of handsome DAVID SOUL and his wife KAREN—who was featured in Here Come The Brides.
Births this month include: BILLIE and GLEN CAMPBELL's son (February 12) WESLEY CAIN; MR. and MRS. JOHN HARTFORD's daughter KATHRINE GAYLER; and MR. and MS. MICHAEL ANDERSON's daughter DANICA. Congrats to all . . . Look for a surprise LP by BOB DYLAN and his buddy, JOHNNY CASH. It was recorded when they both were in Nashville working on separate albums for Columbia Records at the same time . . . Drummer JOHNNY BARBATA split from the TURTLES and will form his own group . . . BRENDON BOONE will not be co-starred in The Undefeated (MICHAEL VINCENT is in this film), but instead you'll probably see him starring in The Ski Bum . . . Look for DONOVAN singing and being beautiful in UA's If It's Tuesday This Must Be Belgium (LUKE HALPIN is in this film). By the way, don't you think 15-year-old MICHAEL SHEA looks a lot like LUKE used to look? Hope you caught MICHAEL in NBC's Wonderful World Of Color two-part western, Ride A Northbound Horse. You can write to MICHAEL at Walt Disney Productions, 500 S. Buena Vista, Burbank, California.
BOBBY SHERMAN has just started work in a 90-minute ABC-TV movie called The Sky's The Limit. It's being filmed at Lake Tahoe, his co-star is SAJID KHAN—and you'll see it all on ABC's great new telly season starting in September, 1969! . . . If you dug BEN MURPHY in Yours Mine And Ours, you won't want to miss him as "Joe Sample" in NBC's The Name Of The Game Friday nights at 8:30 P.M. . . . A Don't miss for DIANA RIGG fans—her performance as "Sonya" in Paramount's flick The Assassination Bureau. Super!! . . . Coming soon: BOB WAGNER in another Paul Newman film. This one's called Hall Of Mirrors . . . The Ghost And Mrs. Muir will switch from CBS to ABC in the fall of '69 . . . MARK and MELINDA can't decide whether to call their new baby MORGAN or MEREDITH. Why dontya' just call it M&M? That would be sweet! . . . Commercials are all the rage. You've already seen the RAIDERS doing the Pontiac and Mattel Toys commercials, but watch and listen for the MONKEES doing Kool Aid, the VANILLA FUDGE doing Coco-Cola, the TURTLES doing "Speedy" Alka Seltzer, and the JEFF AIR doing Southern Pacific Railway . . . Epic artists POGO changed their name to POCO for the nonce—but they'll go back to POGO if they can work things out legally with POGO's creator, WALT KELLY. Meanwhile, be sure to pick up their groovy Epic LP Pickin' Up The Pieces (no pun intended).
FLASH OF THE MONTH! The MONKEES will do a live concert in the New York City area on Saturday, June 21. The concert will take place at the Forest Hills Music Festival, Forest Hills Tennis Stadium, Forest Hills, New York (a 30-minute bus or subway ride from mid-town New York). If you want to order tickets now, you may do so by sending either $7.50-$6.00-$5.00 or $3.50 per ticket (be sure to send check or money order (not cash) to Monkees Concert, Forest Hills Music Festival, 11 Station Square, Forest Hills, New York 11375. Be sure to print your ticket orders and return address clearly and—include 25¢ for postage and handling. Tickets will be on sale at the box office at Forest Hills after June 1—but if you wanna be sure of getting your tickets and getting good seats, mail ahead for them as soon as possible.