Boston, Mass.
When the above letter reached 16, the rumors were running fast and furiously that Davy Jones might indeed be married and might even have a family! It's no secret that Davy has been going steady with Linda Haines for over a year. In fact, a number of pictures of them together have appeared in 16 and 16 SPEC. Davy has never tried to hide the fact that he is deeply attached to Linda. Though he is aware that a national TV announcer mentioned his alliance with Linda, and that numerous radio stations all over America announced that he and Linda are wed—at press time neither Davy, nor Screen Gems, nor the Monkees' press agent has officially announced that Davy and Linda are married. Since it is clear that something is going on, 16 feels obligated to give you—Carol—and all of the millions of other 16 readers some kind of information regarding what's happening with adorable Davy.
Davy's private life is certainly his own—but by nature of the fact that he is a very public figure, it is only human that his many fans and admirers be curious about his romance and marital status. So, for the time being, let it suffice to say that though Davy is aware that rumors are circulating, for the moment he has decided not to say anything. Any minute you may hear that Davy is—or is not—married. Whichever, let us all stick together and reassure one of the most wonderful and popular young stars to ever come through the pages of 16 that each and every one of us loves and adores him—the real him—Davy Jones the star and human being! If Davy is married—groovy! We wish him (and his) every bit of happiness. And if he is not married—that's fine too. All we really want is for Davy to be happy!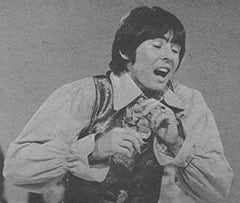 MONKEE NEWS IN GENERAL: Davy was a knockout when he did Consider Yourself on This Is Tom Jones. Hope you caught his second guest shot on Tom's ABC-TV series. . . . The track of the Monkees' recent single Teardrop City was cut two years ago by Boyce and Hart, when Donny Kirshner was still music director for the Monkees!
Great news: Starting in mid-March, the Monkees began doing weekend concerts all over America. They have appeared in Vancouver, Seattle, Charleston and Hartford. Here are the dates they have for the future: April 26, Auditorium Theater, Chicago, Illinois; May 3, The Coliseum, Jacksonville, Mississippi; May 9, Civic Auditorium, Albuquerque, New Mexico; May 10, Civic Center, Wichita, Kansas. Other possible dates will be Birmingham, Hawaii, Portland and Spokane—and the boys also paid a surprise visit to New York City in early April.
Micky just shot a mini-film to send to deejays all over America to promote the three "new" Monkees and their fabulous concert show . . . Hope you didn't miss Davy, Micky and Mike on their April 14th NBC-TV special . . . Look for the boys soon on the following shows: Glen Campbell Goodtime Hour, The Johnny Carson Show, This Is Tom Jones, and The Mike Douglas Show. . . . Micky is available to do movies and Mike is producing records for Dot, including one by former Monkee standin Bill Chadwick (Talking To The Wall) and one by a newly formed bluegrass-country-rock oriented group called the Corvettes. Mike's best friend, John London, is one of the Corvettes . . . And all three Monkees are getting their next album ready, plus working on a plot for a movie which they may write themselves! . . . Sammy Dolenz has opened her very own groovy boutique. It's called One Of A Kind and it's at 8003 Santa Monica Blvd., Hollywood, Calif. . . . Oh, yeah—you can bury those rumors that both Davy and Micky are getting drafted. Just some more dumbo made-up gossip!!
Recently when a friend in New York City got a cryptic postcard from Linda Eastman postmarked London, England, which said, "You just better believe it!", the friend put two and two together—or, more like it, one and one (one being Linda and the other being Paul McCartney)—and came up with what turned out to be the wedding of the year!
Paul, 26, married Linda, 27, on March 12 at 10 A.M. in the Marylebone Registrar's Office, in the west end of London. Twenty-four hours before the private ceremony, Paul gave the announcement exclusively to the London Standard Daily and then had the Apple offices call 16 in New York City, so that 16 could be the first magazine in America to get the good news!
Linda, who had erroneously been called an Eastman Kodak heiress (she is not; her father is a show-business lawyer in New York), was married once before and she has a six-year-old daughter named Heather. Linda and Heather have been Paul's guests in London for the past six months, and they have stayed with Paul (and his sheep dog "Martha") at his isolated Scottish farm. And in case you missed a picture of them that appeared in the April issue of 16, here's a reprint of same.
Linda Eastman, whose excellent photographs have appeared not only in 16 but in many other magazines, is a groovy girl. She loves Paul madly and she will make him a wonderful wife. Congratulations to Paul and best wishes to Linda—we all join together in wishing them both all the happiness in the world!
BEATLE NEWS IN GENERAL: Meanwhile, back at Apple (which is having a rocky go of it financially, it seems), the Rolling Stones' official adviser, Allen Klein, and New York lawyer John Eastman (brother of Paul McC.'s Linda) have been called into the Apple entertainment complex to try to straighten out money matters for the Beatles and their friends. The boys are simply loaded with pounds sterling—but they don't know how to manage themselves, business-wise . . . Paul and Linda are hard at work on a book of her photos. Linda took the pictures and Paul is writing the captions . . . The release date of the Beatles' next Apple LP was delayed after George was rushed to University College Hospital for a tonsillectomy. Now their next album is scheduled to be released early in May . . . Ringo just returned from eleven weeks of filming The Magic Christian, with co-star Peter Sellers . . . Jackie Lomax's first LP Is This What You Want has just been released on Apple. It was produced by George Harrison . . . In spite of what you hear, all of the Beatles are most anxious to play concert dates in America. They would like to appear in Madison Square Garden first, and then do a series of concerts in major cities all over America . . . Mary Hopkin was beautiful when she appeared in This Is Tom Jones recently singing Happiness Runs. Both Paul McCartney and Donovan play guitar on Mary Hopkin's new LP Postcard . . . The Beatles' latest craze is looking at Laugh-In on British TV. Don't be surprised if they do a Laugh-In guest appearance here . . . George Harrison's secret passion is to live in California for six months every year. Looks like that dream may come true, for the Beatles plan to purchase a house in Los Angeles. They are also renting offices in L.A., and they plan to build their own recording studio there . . . Apple's latest smash group, of course, are the adorable Iveys. Their single is Maybe Tomorrow—and look for their LP to be released at any minute!
Magazine: 16
Editor: Gloria Stavers
Published:
Volume: 11
Issue: 1
Publisher: 16 Magazine, Inc.
Pages: 6–7