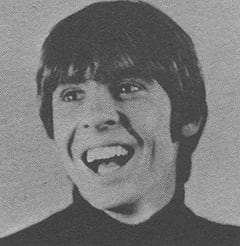 If you've ever been away from your family for a long time, this warm recollection of the wonderfully happy reunion of Davy and Lynda Jones will give you a very special joy.
When I think of the summer of 1963, I'm filled with wonderful memories of parties, swimming and boating, Downey's Restaurant, Broadway plays and my younger brother—who had grown up! If all of this seems a bit unusual for an English girl, you're quite right. But when that "younger brother" happens to be David Jones—well, you learn to expect the unexpected! But I'm getting ahead of my story—let me take you back to when it all began, and then you'll see for yourself why that summer was so great!
A ticket to New York!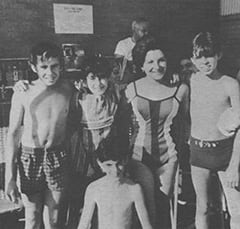 It was late spring in England—a day just like any other. Of course, nothing had really been the same since David had left for New York City to play in Oliver!—except that things were much quieter at home! We had just received David's weekly letter and as Dad opened it to read it aloud—something dropped out. From that moment on, I wore a constant expression of shock, delight and pure ecstasy! Can you imagine why? What had fallen out of David's letter was a plane ticket to New York—and it was for me! I would be spending a whole month in America with my brother, and the time couldn't pass fast enough until my plane took off!
As you probably know, reunions are a mixture of tears and laughter—and ours was no different. When I finally landed in New York, there was David—lifting me in the air and hugging me like a teddy bear. I couldn't speak between my tears and giggles—it was so great being with my little brother again!
That night, in David's New York apartment, we talked and talked until the wee hours of the morning. We awoke late in the afternoon and the first thing I did was cook David one of his favorite dishes—fish and chips! Before we knew it, we had to leave for the theatre. I had seen Oliver! many times in London, but now my heart pounded with the excitement of a first night. If you've ever dreamed of going to New York and riding down Broadway after dark imagine doing it with David, and you'll know how I felt!
The theatre was sold out, and it hummed with excitement as the curtain rose. Ages seemed to pass before David appeared. His performance had improved tremendously since his early days in London, and he played the "Artful Dodger" as if the part had been written just for him. Right before he left the stage, he gave me a huge wink and a smile. I felt so very proud to be his sister.
During intermission, I met Clive Revill (Fagin) and Georgia Brown (Nancy). Their warmth and friendliness made it easy to understand why David was so happy in Oliver! After the show, David and his friends threw a surprise party for me at Downey's, a nearby theatrical restaurant. This is run by Jim Downey, a jolly Irish-American who had become a great friend to David. The walls were covered with signed photographs of many famous personalities. I was absolutely thrilled to see David's smiling face up there alongside such great talents as Frank Sinatra and Louis Armstrong. The party was a wonderful way to end a wonderful evening!
Exciting days and nights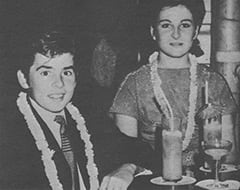 A whirlwind of sightseeing tours and shopping sprees followed. In between shows, David and I took in Radio City, Rockefeller Center, the Empire State Building and beautiful Fifth Avenue. June is hot in New York, so we spent a lot of time cooling off in the rooftop pool of the Loew's Midtown Motor Inn. The owner had enjoyed Oliver! so much that he gave the cast free use of the pool! We swam and sunbathed, and I seemed to spend most of the time being thrown into the pool by my brother and his show-biz friends! In the evenings, I saw many wonderful Broadway plays—thanks to David's friends. They generously gave me tickets, so that I could see their shows too.
Many times, after David finished an evening performance, we would just walk around New York, talking and reminiscing. One night we went to Greenwich Village and I loved it. I found everyone there especially friendly and full of life. Another night we took the Staten Island Ferry and watched the sun come up. It was beautiful!
Another highlight of this vacation was David's first TV appearance. Georgia Brown had arranged for David to be in Talent Scout, a nationally televised program. In the show, a "Star of the Future" (David) was introduced by a different famous name (Georgia). The audience loved David and afterwards we went to the Hawaii Kai Restaurant to celebrate. It was fantastic! Girls in grass skirts hung garlands of flowers around our necks and we ate exotic food I had never even heard of. To make my day complete, David told me of a special surprise he had planned. We were leaving the very next day for a short vacation with our Aunt Louise and Uncle Joe, who lived in Ontario, Canada.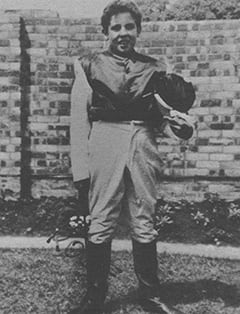 We had a great time in Canada. We swam and had moonlight barbecues with the family and went horseback riding at a nearby farm. Here, away from the hustle and bustle of New York, David and I talked closely about our lives. He told me what a big decision it had been for him to give up his jockey training to enter show business. David dearly loves horses and the racing world. I was touched when he gave me his most precious personal photograph—taken of him when he was 15 years old and was just starting his jockey training. I've treasured it ever since, because I know that one of David's main ambitions is to have his own stable one day.
When we returned to New York, another surprise was in store—this time for David. David Merrick, the producer of Oliver!, came to see David about playing in a new English show, Pickwick, which he planned to open in the States in about a year. David was ecstatic, particularly since the star would be Harry Secombe—one of England's greatest actors. David and Harry Secombe became very close friends while playing in the show together.
Time to go home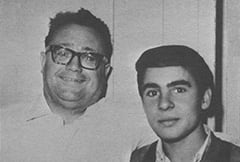 As with all good things, my month with David came to an end. On my last day, after the show, we went to Long Island, where a friend of David's had invited us to stay at his beach house. We spent a fabulous day there and the most fun was going around the bay in a speedboat. David waterskiied for hours while I sat there wondering where he got all of his energy!
I thought we'd spend our last evening quietly, but instead we went to a marvelous party at the famous Peppermint Lounge—where we literally danced all night! Everyone was wonderful, and it made my last night in New York truly memorable.
I suspect that David didn't usually lead such a hectic life as he did during my visit, but he made it something I will always treasure. His face, as we said goodbye at the airport, told me how much he'd enjoyed it too. Words weren't really necessary—and besides, it was pretty difficult to talk! He had loaded me with so many gifts for the family that I could hardly stand up!
Perhaps someday I'll visit David in the U.S. again. I certainly hope so. But meanwhile, being able to tell you about it has made it come alive for me all over again—and the six years since that time still seem like only yesterday!