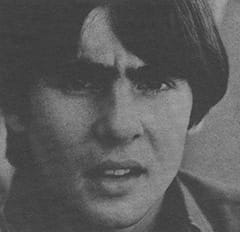 Dear Davy,
When I picked up the January TIGER BEAT at my corner store I couldn't wait to get home to read it! I raced all the way, closed my bedroom door, and relaxed on my bed, ready to enjoy another groovy issue!
I turned to the first page and saw the title: "Davy Loses His Father" and I just froze right there. As I read the story, the tears came to my eyes and I couldn't hold them back. I had read so much about your wonderful dad and I knew how much you loved him. His death touched me deeply, because you are very dear to me and I love everyone you love.
When I finished the story, I sat in my room for a long time, trying to think of some way I could express my sympathy to you and let you know how well I understand your feeling of loss. Since I can't see you, and take your hand in mine I decided to share my own experience with you in this letter.
You see, not long ago I too lost someone who was very close to me. In October, my grandmother died. She was 86 years old, but she was very active and she had lived with my parents ever since I was born. They both worked, so Grams took care of me and she was much more than a grandmother to me. She was my very best friend. I felt I knew her even better than my own mom and dad. I could tell her anything, and she would always listen and try to understand.
Christmas was always our favorite time, with all the secrets, and the tree and the celebrating. Grams always used to make all her presents, and all the decorations for the tree.
Then, just as suddenly as a clap of thunder, Grans was gone. One day she was with me in my room, helping me paste pictures of you in my scrapbook, and the next day she died, quietly and without any warning.
I was so completely lost without her. For a long time I didn't laugh or smile. I felt like my world had ended when she died. When Christmas came, I wasn't enthusiastic about presents and the tree like I always had been before. But Christmas Eve, as always, we took down all the boxes of decorations and began to trim the tree. Then a strange thing happened to me. As I began to hang the beautiful pine cone decorations and the tiny angels that Grams had made, I started singing one of the old German carols she had taught me, and I didn't feel so sad anymore,
And suddenly I knew that Grams was there with me, excited about trimming the tree and thinking about everyone opening the presents she had made for them so lovingly. I realized that I could go on!
I hope this letter has meant something to you, Davy. I've wanted to say so much and I know that I haven't found all the right words, but I hope my message has come through to you. You must carry on your life as your father would want you to. He is with your mother now, watching over you, and he wants to be proud of you as he always has been.
Remember, you're working for a tough audience (your parents) sitting in the balcony (heaven) watching your most spectacular performance—your life. I know you won't fail them!
Peace and love, S.K.