Jill St. John and Sally Field were just two of the celebrity guests on last season's "Dating Game." There will be more great guest stars this year too!
The groovy Douglas family will be back this season on CBS with more fun adventures. The series stars Fred MacMurray, William Demerest, Don Grady, Tina Cole, Barry & Stanley Livingston.
Mission Impossible is one of the most exciting shows on TV. It stars Greg Morris, Peter Lyons, Peter Graves, Barbara Bain (and her husband) Martin Landau.
Star Trek was rescued from cancellation by letters from fans. Look for these groovy stars to return: Leonard Nimoy, DeForrest Kelly, William Shantner and Walter Koenig. Their new adventures are wild!
The Flying Nun will have many new ways of flying this season. Don't miss seeing Sally every week on ABC.
Kurt Russell is one of Walt Disney's brightest young actors. He spent several weeks in Scotland this summer filming a 3-part color series "Guns In The Heather" for this season's "Wonderful World of Color."
Another returning favorite will be Marlo Thomas, who plays aspiring actress Anne Marie on "That Girl."
Robert Wagner's series "To Catch A Thief" began at mid-season and was so popular that it was renewed for this season!
Isn't it wonderful that "Happening '68" was such a hit! You'll be seeing Mark and Paul all the time as co-hosts!
Mark Slade will again be seen on "The High Chaparral" on Friday nights at 7:30 p.m. on NBC television. He's a doll!
Back too in "The Guns of Will Sonnett" will be darling Dack Rambo. Show time is the same—Friday, 9:30 p.m., ABC-TV.
Look for Stephen Young to come back as the co-star of "Judd For The Defense" on Friday's at 10 p.m. on ABC.
Rowan and Martin's "Laugh-In" will return with all their groovy regulars and many new gags! So will The "Smothers Brothers Comedy Hour" which features many great rock groups as guests.
Nancy Sinatra won awards for her first TV Special called "Movin' With Nancy." She'll do another special this year.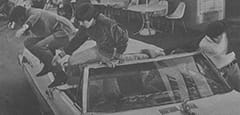 The Monkees series was cancelled last spring, but you'll see them on three one-hour Specials on NBC-TV. They spent many hours last summer planning and rehearsing for the specials.