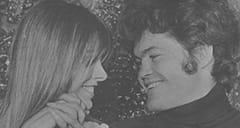 Samantha's long blonde hair streamed down the back of her white dress as she stepped into the sunlit patio filled with flowers. As her eyes glanced up they met Micky's adoring look and she squeezed her father's arm.
It was only minutes until she took a deep breath and said, "I do." Then she looked slowly up into the eyes of the boy she loved… George Michael Dolenz, Jr. Micky looked at his new wife. He had met her less than two years ago and each day he knew he loved her more…
Now they were one. Mr. and Mrs. George Michael Dolenz, Jr. The short ceremony ended with a kiss, which was really the start of a new life together. Samantha was his wife and Micky was her husband… to them both, this bond meant forever.
The small wedding was held on the patio of Micky's newly-decorated Laurel Canyon home just beside the pool and waterfall. The garden was filled with flowers and the warm sunshine made this July 12th a perfect day.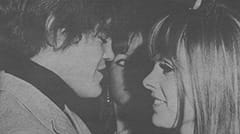 The guests were few—Samantha's mother and father, Micky's family, Peter Tork, Davy Jones, Mike and Phyllis Nesmith. Ric Klein, Micky's long-time friend, was the best man. Coco was the maid of honor and Micky's stepfather, Dr. Robert Scott performed the ceremony.
Micky wore a black Edwardian suit with grey-pin-striped trousers and a ruffled, high-collared shirt. Sammy chose a beautifully simple white belted dress that enhanced her natural loveliness.
The next morning Micky and Sammy left for a secret hide-away honeymoon. With them went the wishes of everyone for all the joys that loving can bring. May it be a honeymoon that lasts forever.