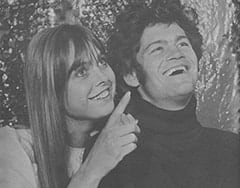 On a sunny July 12, 1968, in Los Angeles, California, George Michael Dolenz, Jr., married his long-time steady girl friend, English model Samantha Juste.
Micky met "Sammy" when he appeared on Top Of The Pops—an English TV show on which Samantha "announced" records—in February 1967. "I saw her sitting in the TV canteen drinking tea," Micky recalled in an exclusive interview with 16. "I thought she was attractive. I didn't know she was a model or that she had anything to do with the show. Later I saw her putting on the records for Jimmy Saville (Savile was later revealed to be one of Britain's most prolific sex offenders), the deejay of Tops. Mike (Nesmith) and I were appearing on the show to be awarded an English Gold Disc for I'm A Believer. Cyril Black, a London Screen Gems' rep was with me and when I told him I thought 'that girl' was cute he said he knew her. He called her up and introduced us. I wanted to ask her to have dinner with me, but I was afraid she'd say no. Anyway, I got up my nerve—and she said yes! We went to Bag O' Nails for dinner and then we went dancing. That was the beginning—"
And a beautiful beginning it was indeed! As the months passed the Micky–Sammy romance blossomed into real love, but the couple still waited. Finally, after a brief visit to Samantha's folks in England last June they flew back to the States together and decided that the time had come to publicly tie the knot.
Mr. and Mrs. Michael Dolenz were made one in a simple, informal ceremony performed in Micky's Hollywood Hills residence. Wedding guests included the parents of the bride and the groom, Mike and Phyllis Nesmith, Davy Jones and Peter Tork.
To Micky and Sammy 16 Magazine and 16 Spec—and its millions of readers—send their love and sincerest wishes for eternal happiness.