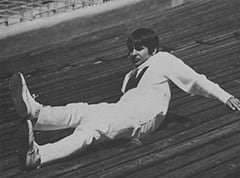 MONKEES MOVIE—As we went to press, the official word was that the fab flick wouldn't be released until Thanksgiving Week in mid-November. Apparently, plans to put it out next month have been shelved. No title yet, still called "Untitled." As details develop, FLIP'll be on top of them, as always!
SUPER SCOOPS—On June 16th, BILL COWSILL was married to KAREN LOCKE in a quiet family ceremony in New York City . . . In London, MR. & MRS. ANDY WILLIAMS' luncheon guests were PAUL MCCARTNEY and JANE ASHER . . . APPLE CORPS THE BEATLES' new world-wide company which JOHN and PAUL announced in New York in May, will be going into all sorts of pop projects . . . The first four movies the company will be producing are: "The Jam," "Walkabout," "Gorgeous Accident" and a film based on JOHN's two books . . . Watch for GENESIS: a brand-new group out of LA . . . Featuring Sue Richman, Fred Rivera, Kent Henry, Bob Metke and Jack Tahna . . . TOMMY JAMES, with some of his money from "Mony, Mony," just moved into a new York York apartment, complete with three bedrooms and a terrace . . . TURTLE JOHNNY BARBATA is having a combination prism/magnifying glass installed in the bedroom ceiling of his Malibu, California, beach house so that he can drift off to sleep at night watching the stars and listening to the waves!
RECORD RAVES—PAPAS & MAMAS (Mamas & Papas/Dunhill) . . . SUPER OLDIES, VOL. 3 (Bobbie Gentry, Stone Poneys, Glen Campbell, plus many others/Capitol) . . . STEVE NOONAN (Steve Noonan, Elektra) . . . MASTER JACK (4 Jacks & A Jill/RCA Victor) . . . HAIR PIECES (Gait MacDermott/Verve Forecast) . . . All action albums well worth your time (and money)!
BREAK-UPS—BUFFALO SPRINGFIELD have broken up . . . DEWEY MARTIN will become a solo singer or form a duo with his lovely wife . . . RICHIE FURAY may try and form a group with a friend . . . NEIL YOUNG may go solo . . . STEVE SILLS may replace AL KOOPER in BLOOD, SWEAT & TEARS . . . OR STEVE may form a group with BUDDY MILES and STEVIE WINWOOD . . . Their old groups, ELECTRIC FLAG and TRAFFIC, also appear to have had it . . . And for the latest changes with THE BYRDS and THE ANIMALS, flip to page 44 of this issue.
BEE GEES SCHEDULE—They'll be in Sacramento, Calif., on August 1st; Hollywood, August 2nd; San Francisco, August 3rd; San Diego, August 4th . . . Then jump to New York, August 10th; Pittsburgh, August 11th; and Detroit, August 24th . . . The rest of the schedule was still being settled as we went to press.
SPEAKING OF SCHEDULES, don't forget to circle AUGUST 8TH on your action calendar: That's the day you can get the outasite October issue of FLIP!