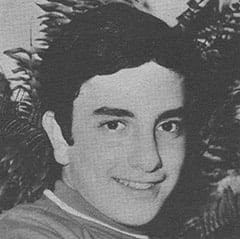 MORRISON'S MOP! JEFF'S NEW SHOW! NAZZ IN HOLLYWOOD!
FLASH! JIM MORRISON cut off his beautiful hair! The impulsive imp of rock and roll decided to shed his glorious locks a couple of days before he was photographed for the cover of Esquire Magazine. Don't panic, diddy bops—it turns out that, impossible as it seems, Jim looks even better with short hair than he did with long hair! He calls his "chop" Early American Roman Emperor! . . . Welcome back to perky PETER and gorgeous GORDON. Hope you caught them either in concert or on TV during their recent visit here. Love their new Capitol single You've Had Better Times. GORDON wrote it and P&G produced it themselves . . . Bouncing BOBBY VINTON helped to launch The International Year For Human Rights, a worldwide endeavor of the United Nations . . . Jumpin' JEFF NEAL now has his very own radio show on Chicago's WEAW-FM. It's called Neal Deals With The Stars. It reaches four states and parts of Canada, and it can be heard on Friday nights from 11:45 til midnight. JEFF, whose parents run Zilch, tapes the show on weekday afternoons from that famous Greenwich Village store. Why don't you drop in? It's at 217 Thompson Street. Who knows, you might even get to be on JEFF's show! . . . Everyone has gone nutsy over NILSSON since the BEATLES plugged him on their recent trip to the States. HARRY NILSSON is a West Coast writer-singer who records on RCA-Victor. The TURTLES have just recorded Story Of Rock And Roll, which is a NILSSON song. NIL'S latest RCA-Victor LP is Aerial Ballet. Itza don't miss!
Among GeeGee recommended LPs this month are Zalman Yanovsky Is Alive And Well In Argentina on Buddah; John Davidson's Goin' Places on Columbia; Johnny Rivers' Realization on Imperial; Group Therapy on RCA-Victor; The Humor Of Rowan & Martin on Epic; Jim Webb Sings Jim Webb on Epic; and the Moody Blues' Days Of Future Passed on Deram. My three knock-out fave LPs this month are Papas & Mamas on Dunhill; Cher's Backstage on Imperial; and T. Viswanathan's South Indian Flute on World-Pacific . . . The most trend-setting underground group in the pop music field has finally made a record. They are The Seventh Sons and their first LP 4 A.M. At Frank's is on ESP Records. It's a mind-snapper, bunrabs . . . Stone upsetter album of the month is Dr. John The Night Tripper's Gris-Gris on Atco. Try his Walk On Gilded Splinters—itza four-wheel trip! . . . The BYRDS are driving me batty. GRAM PARSONS, who just joined 'em, quit 'em. He might be replaced by RON DILLARD, whose brother DOUG is already in the group . . . High-flyin' JOHN PHILIP LAW gets to jump out of an airplane in his next flick! No need to be nervous—they give him a parachute. Ya' see—he plays the role of a professional sky-diver. No kerplops . . . LEONARD and SANDI NIMOY and BILL SHATNER (scotching the rumors that LEONARD and BILL don't get along) showed up together for TV's equivalent of the movies' Oscars—the Emmy Awards . . . Ex-Gorilla CHRIS CARY co-stars in Serafino, which has just finished shooting in Rome . . . SONNY BONO has started production of his controversial movie Chastity, starring the one and only beautiful and talented CHER . . . RAIDER FREDDY WELLER was one of the writers of the song Sock It To Me Sunshine, which was recorded by the CURTAIN CALLS on Dot . . . The NAZZ were a knock-out at their L.A. Whisky A Go Go debut. Cheer-leaders included the MAMAS & PAPAS, JIM MORRISON, the YARDBIRDS, BOYCE & HART, LYNNE RANDELL, CHRIS CROSBY, PETER TORK, the ANIMALS and STEPPENWOLF. Speaking of STEPPENWOLF, watch out for JOHN KAY, their lead singer, who is going to be the biggest new explosion on the teen pop scene!
That groovy-looking cat with MIKE DOUGLAS, RICHARD HARRIS and the COWSILLS (pictured here on the far left) is adorable JIM WEBB. The whole kit and kaboodle were snapped when they recently appeared on the Mike Douglas Show . . . Speaking of the COWSILLS, they will be doing a big TV spec this fall, they will put out a line of their own fashion designs, and they will be doing a series of TV commercials and personal appearances on behalf of the American Dairy Association. Yes, Virginia, it's true—America is the land of milk and money . . . If you only liked JIM MORRISON because of his long hair, you can now switch your affection to his look-alike, young KEITH McKIE—lead singer for Canada's smash new group KENSINGTON MARKET. They are now recording on Warner Brothers Records. More later! . . . Thought for the month: Happiness is having the capacity to find more satisfaction in giving than in receiving.
Dr. Wm. Menninger