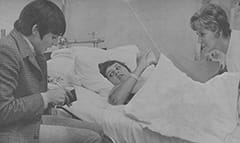 Photo courtesy of the Arizona Republic by Earl McCartney
These are Davy's words about 11-year-old Rhonda Cook, whose life took a sudden and tragic change on a dark Wednesday afternoon.
Eleven-year-old Rhonda Cook and seven-year-old Patti Smith were happily crossing Cave Creek Road in Phoenix, Arizona, late one afternoon when it happened.
Suddenly a pickup truck roared down on them and both were hit before they knew what was happening. The album Rhonda fondly carried was smashed in the street where she lay unconscious. It was the Monkees' latest album.
The next thing Rhonda knew she was lying quietly in a hospital bed. They had amputated her left leg.
Roy Cook, Rhonda's father, reported to a newspaper that Rhonda's favorite performer was Davy Jones. He also mentioned that a letter from Davy might make the next few weeks a bit brighter for his daughter.
What no one expected was what happened next. Davy, hearing about Rhonda's condition, took an immediate flight to Phoenix.
"He flew here as soon as he heard," beamed spunky Rhonda. "And the first thing he did was to give me a kiss. And, it was right on the mouth, too. And it was nice. It was like nothing else."
When Davy discovered at the hospital that Rhonda's record player is monophonic, he promised to send her a stereo rig, complete with a supply of records of her choice. He also gave her a stereo slide viewer, autographed the Monkee posters she had in her room and promised to send her his own, personal tambourine.
"And you know what else he did?" Rhonda asks. "When it came time to give me his autograph, he couldn't find anything to write on. So he pulled out his driver's license, autographed that, and gave it to me."
Davy also gave Rhonda his private telephone number.
"I don't know what I'll ever be able to do for her," Davy said, "but if she ever needs me, or if she just wants to say hello, all she has to do is call me collect."
Because of Patti Smith's condition, Davy was able to visit her only briefly. But he left Patti smiling and holding a Monkee album…
Rhonda's mother was thrilled with Davy's visit. "He told her not to let that leg hold her back in any way, and told her about a test he'd taken when he was 11 that was supposed to show whether he'd be a success or a failure. It showed that he'd be a failure, but that didn't stop him."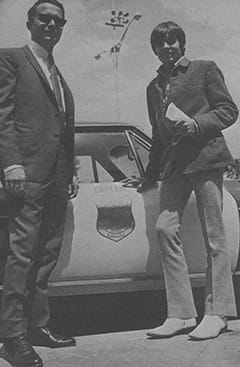 Jim Edmundson of Continental Security Guards in Phoenix, who was protecting the singing group on tours, escorted Davy from the airport to the hospital. Edmundson held back newsmen hoping for an interview.
"Davy doesn't want this to turn into some kind of a promotional deal," Edmundson explained. "He just wants to do what he can for the girl."
"I've seen a lot of celebrities from time to time," said Rhonda's father. "And I never figured that most of them were anything special, as people go. But this boy, Davy… well, there's no way to say how wonderful he is. This visit is something she'll never forget, never."
Davy couldn't do anything about Rhonda's leg, but his visit proved to be better medicine than any other. It put a smile back on Rhonda's face and it hasn't disappeared since.
Any Tiger Beat readers wishing to drop Rhonda a get-well card can address it to: Rhonda Cook, 12832 N. 22nd Street, Phoenix, Arizona.